The Capricorn Rising Stars competition is all about recognising effort, rewarding hard work, and helping workshops retain their future leaders. Unlike other apprentice competitions that focus purely on the technical proficiency of nominees, Capricorn Rising Stars prioritises rewarding apprentices who demonstrate a passion for auto, a positive can-do attitude and a strong commitment to forging a long career as a repairer.
In 2020, the winner was Gabrielle Clift, then an apprentice at Highfields Mechanical and Off Road in Highfields, Queensland. We caught up with Gab, who also won the Motor Trade Association Queensland's (MTAQ)Apprentice of the Year in 2020 and is now a fully qualified technician, to find out how being named the Capricorn Rising Stars winner had changed her life.
"My career has been extraordinarily busy, fun and exciting," she said. "I was asked to be a mentor for women in the industry through the MTAQ and I also did work experience with Triple Eight Race Engineering, the Red Bull Ampol Racing V8 Supercars team. They were so happy with me that they've actually offered me a job."
At the end of 2022, Gab left Highfields and moved to Brisbane to start her new job—with the blessing of very proud Capricorn Members, Craig and Katherine Baills, owners of Highfields Mechanical.
"They were really happy for me," she said. "When I got the offer I went to Craig and said, 'I don't know what to do, I feel loyal to you guys'. But he said, "Gabs, you will not get another opportunity like this. Mate, you need to take it. Worst-case scenario, if things go south, you're always welcome back here'. So, having his and Katherine's support made that decision a lot easier.
"Craig and Katherine are phenomenal bosses. They have a very high standard, they've supported me through thick and thin, they have very positive attitudes and they're positive about the industry. I can't thank them enough for everything they have taught me. They're legends in my book."
Gab is now working in subassembly on V8 Supercars, disassembling, reassembling and inspecting brakes, transaxles and pedal boxes in the workshop and at race meets.
"Winning Capricorn Rising Stars, and then MTAQ Apprentice of the Year, was a huge thing for me because without it I would still just be a local girl, a local mechanic," she said. "I've always wanted to inspire and help other people, whether it be in my own town or worldwide. I've got to meet so many people—general managers, CEOs—people it's strange for a 24-year-old mechanic to meet. I want young people to know there's an actual career here."
Gab's passion for the industry, her work ethic and her character made her an excellent Capricorn Rising Stars winner.
Nominations for the 2023 Capricorn Rising Stars competition close on 30 April. Five finalists will be announced in the middle of the year, with the winner announced in August.
Capricorn Rising Stars' unique judging criteria creates a level playing field for nominated apprentices, from first to fourth year, in all types of workshops, to be able to compete against each other.
If you are a Capricorn Member and have an apprentice who demonstrates outstanding character and potential as they continue to learn the ropes and further develop their skills, we encourage you to nominate themfor the 2023 Capricorn Rising Stars award.*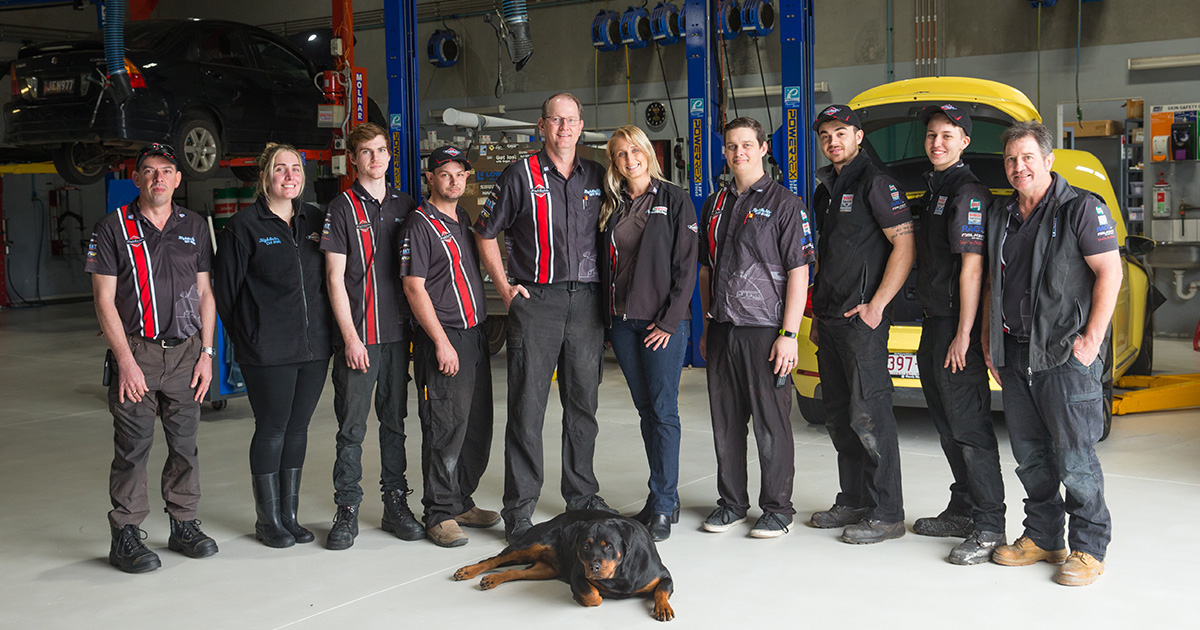 Gab (second from right) and the team at Highfields Mechanical and Off Road.
It's an awesome opportunity as there's great exposure for the business as well," Gab said.
Nominating workshops of the top five finalists each receive a subscription to The Workshop Whisperer's Service Advisor Pro online program, each valued at $3,000 (plus GST) to be used within 12 months of the finalists being announced, and a 12-month Repco Autopedia technical support service subscription.
The winning apprentice will receive a major prize from Capricorn of $5,000 (AUD or NZD, depending upon location). Each of the top five finalists will receive a $1,000 (AUD or NZD depending upon the location) prize from Capricorn, plus a $1,000 Repco voucher (valid for 12 months from the date of issue) and tickets to two Repco Masterclass Clinics.
What's Gab's advice to any apprentice who is nominated by their employer?
"Absolutely go for it," she said. "Any opportunity you are given, take it. When they nominated me, Katherine and Craig said there were some really good opportunities that came with it. I thought, 'yeah, I suppose'. And then I got to the finals and, wow, it was really cool. It just opens doors for you. It changed my world."