Famously, companies like Google and Facebook provide free food to their staff. It's available all day, every day. If you get hungry you simply climb off your beanbag, take the slippery dip down to the canteen and chow down on whatever is bubbling away in the bain-marie. These companies do it because it keeps staff happy, it keeps them productive, and it keeps them onsite.
But there's more to it than that. Anthropologists will tell you eating food is about much more than just survival. Eating food is an incredibly social thing. Food is almost always shared. While the act of eating is a basic need for survival, it's also something we tend to do together. When we share food with someone we're telling them 'you are safe; you are secure; you belong here'. That makes food a potentially very powerful tool to help create or maintain an excellent culture in any workplace.
Here are four food-related ideas you might like to leverage with your own team.
1. Eating lunch together
Make lunchtime an event. Eating lunch together in a designated place is brilliant for building relationships between staff members. It encourages open communication and it's a chance to chat and get to know each other.
If you really want to supercharge that feeling of camaraderie, consider actually providing the lunch. It doesn't have to be every day – perhaps once a week – but it will help put everyone in a great mood. While this might sound expensive, having lunch supplied is the kind of workplace perk that can drive recruitment (because people want to work somewhere that values them enough to feed them) and boost staff retention – so it could save you a lot of money in the end.
2. Having a permanent healthy snack bar
Similarly, providing a well-stocked snack bar with free and healthy things to eat can not only create excellent goodwill with your team (because it's a great perk), it can improve productivity, too. According to World Health Organisation research, eating healthy food during the day can boost your brain power by as much as 20 per cent.
Providing free snacks means employees aren't constantly popping out to the deli and coming back with choc milks and Mars Bars (which will ultimately lead to a spike in blood sugar and then a crash that will leave them lethargic and unproductive).
Providing options like nuts and dried fruit, or protein bars, will give them an energy boost without the crash. Another option is any fresh fruit with a decent shelf life that's quick and easy to eat, even with greasy hands — like bananas or easy-peeler mandarins.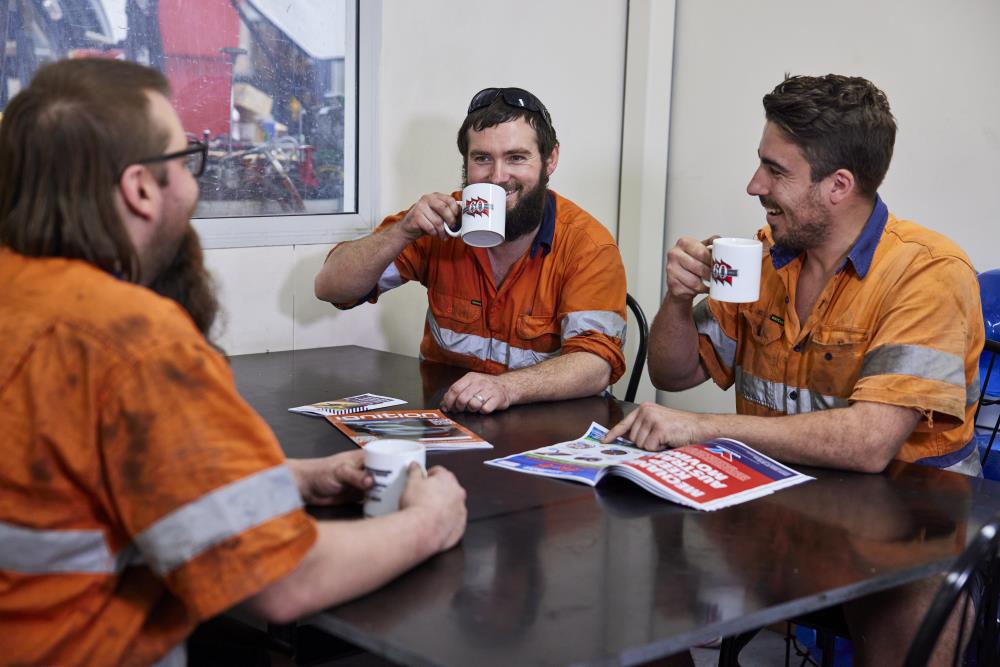 3. Celebrating milestones and achievements
One of the absolute keys to creating a great workplace culture is ensuring hard work and success are acknowledged. Food is a great way to reward the team and give someone who has earned it a hearty pat on the back.
Whether it's getting a cake in to celebrate someone's birthday, putting on a Friday lunch to acknowledge a record week, or having everyone around to your house for a barbecue to mark the end of someone's apprenticeship – everyone likes a little recognition and positive reinforcement from time to time.
4. Donating to a food bank or charity drive
Getting the whole team involved in doing something to give back to the community is an excellent way to improve workplace culture. It's all about doing something together, as a group, where the goal is to make life better for someone else.
Donating to a food bank or a charity drive, volunteering at a soup kitchen, or even standing outside Bunnings on a Saturday cooking sausages to raise money for the local school – there are lots of ways food can be at the centre of your team's charitable efforts.
Making this all as easy as possible
If you're ready to embrace the idea that the way to an employee's heart is through the stomach and you're keen to leverage the power of food to build a great workplace culture, then you might find this next piece of information useful.
Woolworths at Work is now available to Capricorn Members which means you can order groceries and everyday essentials from Woolworths on your trade account and have them delivered directly to your workshop.
You'll earn reward points with every dollar spent, get free next day delivery when you spend more than $99 (where available), and enjoy Woolworth's It's a smarter, easier and healthier way to shop. Find out more at https://www.capricorn.coop/shop.
It's not just Google and Facebook who can reward their team with a little food and enjoy the lift it creates in workplace culture – now you can, too.