Only 39% of Capricorn Members currently employ an apprentice. When factoring this for our membership base of 24,000 Members, that's only just over 9,000 apprentices. With service and workshops projected to grow 9.3% between 2020 and 2025 in Australia alone, there are a lot of trades positions to fill.
The skills gap is real, and since the international borders have been closed for most of 2020 and 2021, finding skilled tradespeople has become a larger challenge. More than 51% of Members listed a shortage of skilled people as a top five concern for the industry in the 2021 State of the Nation report. That's up seven percentage points on the 2020 result, leapfrogging changing technology as the industry's biggest challenge (on 44% in 2021, compared to 49% in 2020).
The biggest opportunity to start closing the gap is to encourage a new generation of talent, as this is the pipeline of future technicians, business owners, partners, and industry leaders. As former Capricorn Director Russell Becker noted in the 2021 State of the Nation report, 'every Member running a business needs to accept they have a level of responsibility to help find and train the talent of the future, and to find a way to do so that is sustainable and profitable for their business.'
'We have to live up to the answer we give to surveys like State of the Nation and actually "train the next generation" — because ultimately it will benefit us all. That's not altruism; that's an investment.'
So, what are some of the benefits of hiring an apprentice? Why should you hire an apprentice in 2022?
It's an investment for the industry
Employing an apprentice not only benefits your workshop in the immediate term, but it also helps other workshops in the future. The greater the number of qualified tradespeople in the talent pool, the easier it will be to find the right people for your workshop, and the easier it will be for your peers as well.
A healthy talent pool also helps when you begin to consider how you would like to exit the industry or succession planning. The apprentices of today will be the industry leaders of tomorrow. A larger pool of prospective buyers is obviously beneficial for business owners looking to sell or pass on their business.
Apprentices tend to be loyal
Apprentices spend a number of years in your workshop and get to know you, your goals and business values. They understand the commitment workshop owners put into their training and development and will often develop a sense of loyalty to their host workshops.
Whilst they may move on after their qualification is complete, apprentices often think fondly of their first workshop. Russell reminisced in the State of the Nation report how he still fondly remembers his time at Prospect County Council (now Sydney Electricity).
A great way to foster apprentice loyalty and demonstrate their value to your business is to recognise them for the great work they do. Capricorn Rising Stars is all about recognising effort and rewarding hard work to help workshops retain their future leaders.
Unlike other apprentice competitions that focus purely on the technical proficiency of nominees, Capricorn Rising Stars prioritises rewarding apprentices who demonstrate a passion for all things automotive and have a positive can-do attitude and a strong commitment to forging a long career as a repairer.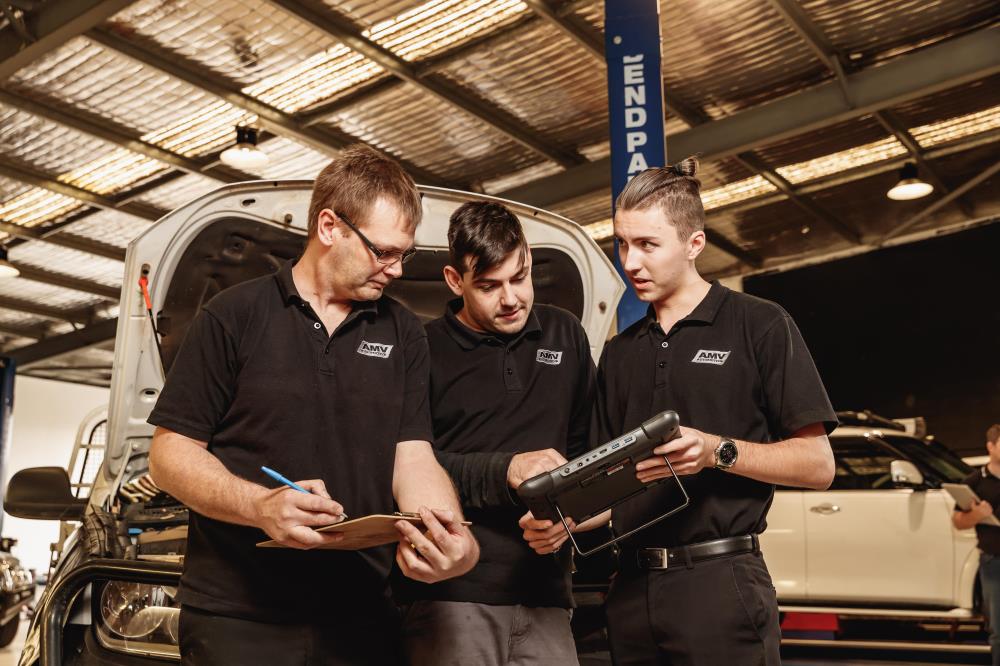 It can help manage human resourcing
Growth can be difficult to manage and getting your staff numbers right can be tough. Apprentices are a great middle step to grow at a manageable level if you aren't sure whether you need a new tradesperson yet.
Apprentices are also very flexible as their training requires experience in numerous areas of the workshop. So not only are you getting assistance in different areas of the business, but your apprentice is developing a range of life and technical skills.
Finally, apprentices can help give existing team members leadership and management experience as they assist with the apprentice's training and development. Whilst training an apprentice is a rewarding experience, it can also foster a sense of value and satisfaction with existing team members.
Apprentices are great for workshop culture
We all remember what it was like when we started our careers. Everything was new, fresh, and exciting. Apprentices bring a fantastic energy to the workplace and can help reinvigorate the team and remind us all why we are so passionate about our trade.
Having an apprentice can also help foster a culture of mutual learning. The trade schools of today are teaching ever new and exciting technologies, which apprentices feed back to their host workshops. Making new discoveries and learning together is a great way to foster strong workplace relationships.
Don't forget the financial incentives
The potential availability of government financial incentives* is another important factor to consider when deciding whether to hire an apprentice. Linking back to our point in human resourcing, incentives can help workshops grow at a manageable rate. Apprentice incentives make hiring an apprentice an attainable reality and a sustainable way to increase your workshop capacity.
We've got an article, highlighting all the available incentives across Australia and New Zealand for easy access to the incentive information you need.
*Please note that all content relating to financial incentives is provided as general information only. Nothing in this article or the linked material should be construed as advice regarding a Member's eligibility to obtain any government payments or financial incentives. Members should seek independent advice if they have any questions regarding the availability of any particular government incentive or payment.