Asking happy customers for Google Reviews significantly increases the chance of them recommending you online, which makes you very visible to prospective customers who are searching and ready to book their next service.
Positive reviews of businesses left by customers on Google not only are powerful testimonials, but they also improve your visibility in search. The more four- or five-star reviews you have, the better you will rank on the local ranking and on Google Maps.
This article is designed to help you encourage more positive reviews for your business.
But, before we go on, let's do a little test.
Do a Google search for "mechanic", or a relevant keyword for your services, and see if you appear in the Google Local Pack (the snapshot with a map and several highlighted businesses). It looks like this: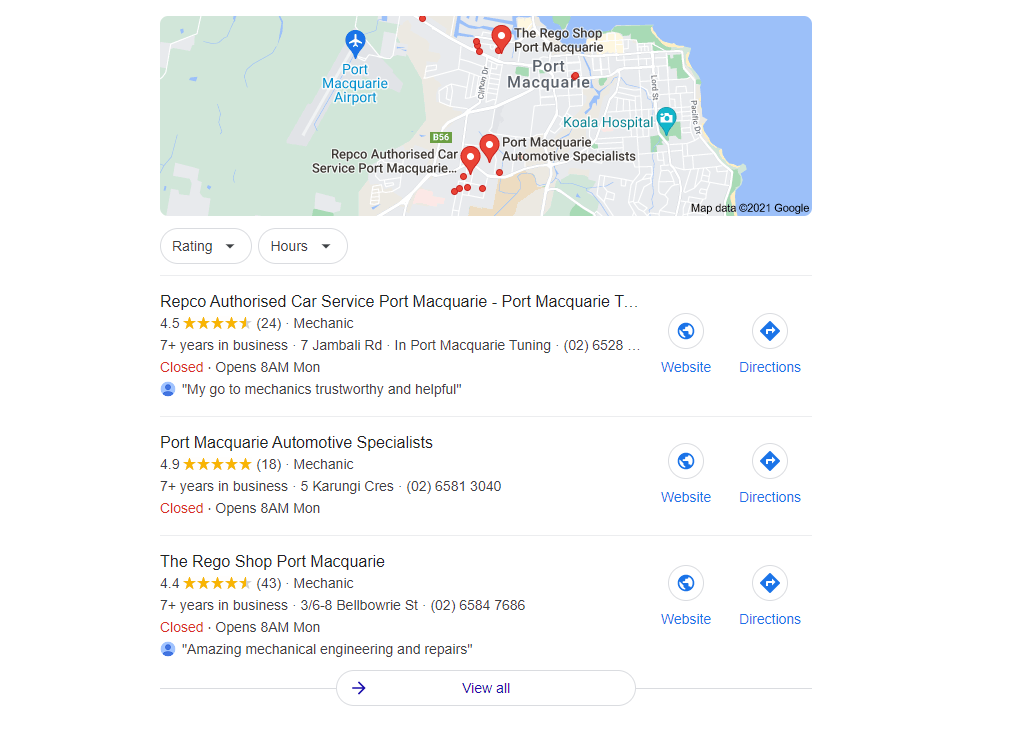 Example of Google Local Pack from Port Macquarie, NSW. Search term "mechanic".
If you see your business highlighted with a map pin, you're already doing something right — you probably have lots of positive Google reviews — and the phone should be ringing.
If you don't see your business highlighted, you'll be losing customers to competitors.
The good news is, you have some control over this — and encouraging Google Reviews is an important step to fix things.
Be more visible in search
Google Search is by far the most popular search engine in Australia, with a market share of 98 percent of searches made on mobile and 94 percent made on desktop.
There are several things you should be paying particular attention to in the Google Local Pack.
First is that all of your contact details are correct, including:
Your business name
Business address
Phone number
Opening hours
Website link, and
Category of business.
If the details are incorrect, the good news is that you can change them. The first step is to verify your business through Google My Business. (And if you haven't already claimed and verified your business on Google My Business, definitely go do that right now!)
The next thing to look at is the star rating and the number of reviews, which is the number in brackets. These figures provide an indicator of the service level customers can expect at your workshop. Google prioritises businesses with strong reviews and you can even use star ratings as a search filter, which means if you've got a poor star rating, you might not show up at all.
Google makes it easy to get reviews
One advantage of encouraging customers to leave Google Reviews (as opposed to any other platform) is that most people will already have a Google account on their phone, which means their name will automatically appear on their review when they post it. This makes it easier for them to leave authentic praise for you online, but also shows you which customers are reviewing you.
The way to get reviews from happy customers is to give them a link to your Google Review page as close to the time of the transaction as possible, while the experience is fresh in their mind.
Increase the chance of a review by using one of the following methods:
Send your customer an SMS message with a link directly to your review form on Google. (SMS is the most opened digital marketing medium, with a 98 percent open rate, according to Gartner.)
If email is easier for you, or you don't have the customer's mobile number, send an email with a review link on the day they pick up their vehicle.
Leave a brochure or business card in their car to ask for a review. Include a link to an easy-to-type address on your website. For example: www.yourworkshop.com/review.
Acknowledge your reviews with replies
A great way to thank your reviewers is to get online and write an authentic reply to each one.
Google My Business Help recommends that you respond to reviews because it shows you value your customers and their feedback. The tip is listed as one of the top things to do to improve your local ranking.
A simple, personalised response will make your customers feel appreciated.
Something like:
"Thanks, Jenny, for bringing your Hilux in. It was a pleasure to service it ahead of your road trip. We hope to see you again next time."
Always respond to negative reviews, but never reply when you're angry. Nothing good has ever come from a rash response to an unfair review from an unsatisfied customer.
Recommendations are a top contributor to success
Capricorn's State of the Nation Report asked Members what success looked like to them. The results showed that customer recommendations and referrals were at the top of the list, with 57 per cent of responses.

The report also showed that 75 per cent of businesses rely on word of mouth for marketing their services. Conversely, just 30 percent used Google Reviews as a means of finding new business.
Most people are willing to get online and write about their experience with a business. After all, their car is an important part of their life and they want to feel like they are being looked after.
Research conducted by Podium, a customer interaction platform, showed people leave reviews to help others understand what your business is like to deal with.
For the top reasons people leave reviews, Podium's 2017 research found 35 per cent of people left feedback to inform others about the customer experience and 26 per cent left reviews to help others make decisions.
If you're providing good service, this is going to show up in your star rating.
All in all, encouraging Google Reviews is a great way to help spread the message about your business in a way that impresses Google and encourages more people to choose your workshop over your competitors'.
You can read the full State of the Nation Report here.