"Paddle" refers to the process of changing gears by using paddle levers mounted behind a steering wheel as opposed to using a prime-mover-inspired gearshift handle located towards the centre of the cabin.
Many of you are no doubt driving cars fitted with paddle gearshift controls these days, enabling any normally mild-mannered automatic car driver to flick into Lewis Hamilton spec, furiously clicking the levers and watching the numbers change on the dash as they turn corners or accelerate away from red lights.
Some of you — and it is a very declining number — are still operating a foot-operated clutch and a five- or six-speed manual gearshift, the good old-fashioned way to really drive a car, but not so much fun in peak-hour Melbourne, Sydney or Auckland traffic.
In Supercars, the debate continues about their proposed next-generation racing car blueprint, referred to as Gen 3. The idea is to bring the cars more in line with current high-performance sports cars on our roads. This is supposed to encourage more manufacturer involvement, given that only Ford is currently involved at that level. Commodores are still competing, but in line with the GM-engineered demise of Holden, the plan is to replace these with another current GM product, the Camaro. The idea behind Gen 3 is to accommodate these cars and to allow easier access for other manufacturers to become involved in the future.
It is also supposed to reduce the cost of building and maintaining Supercars, something that previous changes, particularly the most recent Car of the Future concept, spectacularly failed to do.
The process to make Gen 3 become a reality has not been simple. Along with the numerous engineering challenges, there are the problems of different-sized engines being able to achieve the same power output and aerodynamic equality and selecting the highly reliable yet lower maintenance components to be used as control components across the board.
Of all the changes being made, the most interesting issue from the drivers and many diehard fans is whether or not to include electronically activated paddle gearshifts or to retain the current mechanically operated sequential gearshift system. In fact many fans were (and remain) upset with the change from the traditional H-Shift gearbox when sequential mechanical gearboxes were introduced.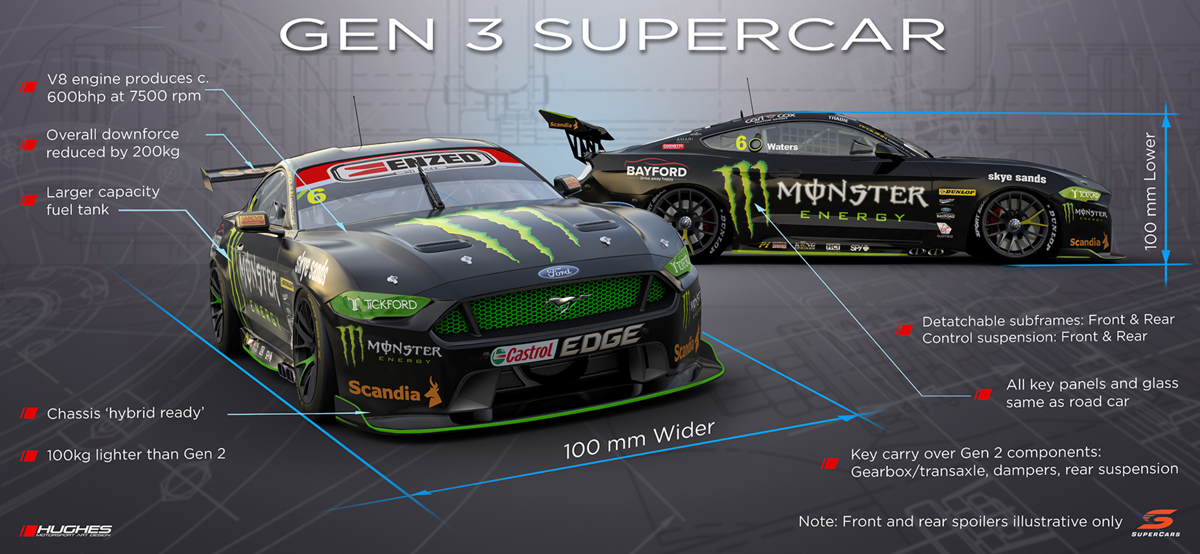 Many drivers feel that the physicality of wrestling with a super-fast, very heavy and under-tyred racing car will be lost if all you need to do is hold onto the wheel and pull on paddle levers, as we now see in WEC / Sportscar or GT racing.
Even the art of heel and toe footwork by racing drivers (to avoid compression lock when shifting gears) won't be required as this can also be actuated automatically by the electronics, as is the case with current high-performance road cars. One high-profile driver actually stated in a television interview that he thought this was the stuff of video games and that it had no place in real motor racing.
The team owners want paddle shifters, as the electronics that come with them make it virtually impossible to blow up an engine or gearbox through a mis-shift, which was meant to be the case with the sequential system, but this theory has since been spectacularly proven otherwise on more than one occasion.
Many fans don't want paddles, as they enjoy watching their Supercar heroes at work through onboard vision that captures how busy they are behind the wheel, managing the sequential gearshifts, adjusting sway bars and brake bias controls all while being furiously chased by 24 other Supercar drivers.
Some also see this as making Supercars become too close to GT3 specification sportscar racing, rather than being something that is and always has been extremely unique to Australia and New Zealand. It must not be forgotten that along this unique way and through outstanding local engineering and parity developments, Supercars became (and still is) the most competitive Touring Car championship on the planet.
For me, motorsport is all about the challenge to be the absolute best driver with the best team and the most reliable equipment. The beauty of Supercars is that it is genuinely extremely difficult to drive them at the absolute limit. Only the very best master it to become frequent winners and champions. Simplification of this process doesn't detract from the driver talent and teamwork needed to win, but it does impact the spectacle of the sport and takes away some of the originality that made it so successful in the first place.
Sadly, with the demise of locally manufactured cars, there is no doubt that Supercars has to change — the sport cannot continue to showcase cars that no longer exist. Gen 3 has to take that next step into being relevant to the most exciting cars that are available on the market, while retaining some kind of truly Australian individuality. All of this has to be achieved without being too similar to other existing racing categories like GT / Sportscars or TCR.
Supercars Australia has recently stated that the Gen 3 vehicle regulations will be in place by the 2022 season, although it is probably more likely that you won't see the next iteration of our favourite racing cars on Australian and New Zealand racing circuits until 2023.
By Paul Marinelli
The contents of and any opinions contained in this article do not reflect the opinions of Capricorn Society Ltd and Capricorn makes no representation or warranty as to the accuracy, completeness or reliability of any material in this article.