The BMW Group
The BMW Group plans to launch its first vehicles featuring completely vegan interiors, made possible primarily through the development of innovative materials with leather-like properties. These materials can be used for steering wheel surfaces, which must fulfil demanding criteria when it comes to feel, premium appearance and wear resistance. Fully vegan interiors will be available for both BMW and MINI models for the first time from 2023, serving the demand for vegan and leather-free interiors that is set to increase in the near future, especially in the US, China and Europe.
The reduction of CO2 emissions over the entire life cycle of a vehicle is the central goal of the BMW Group on the road to climate neutrality, which is to be achieved by 2050 at the latest. Material selection has a key role to play in achieving this goal. Replacing raw materials of animal origin significantly contributes to increasing vehicle production sustainability. The introduction of a new surface material for steering wheels will see the proportion of vehicle components that contain traces of raw materials of animal origin fall below 1% in the respective BMW and MINI vehicles. As a result, these materials will now only be found in areas that are not visible to the customer, for example, in various waxy substances such as gelatine used in protective coatings, lanolin in paints, tallow as an additive in elastomers and beeswax as a flux for paints. The BMW Group has been offering various fabric alternatives to leather for a long time.
Now, for the first time, a suitable substitute for leather is offered for the most important interface between driver and vehicle. The fact that there is now a high-quality vegan surface material with equivalent properties to the real leather previously used in the production of steering wheels represents another major step towards CO2 reduction. The new steering wheel surface material reduces CO2e (carbon dioxide equivalent) emissions along the value chain by around 85% compared to leather. Until now, about 80% of the emissions produced were in the form of methane gas from cattle rearing. The remaining 20% came from processing the cowhide, which is highly energy- and water-intensive.
To achieve the goal of climate neutrality, the BMW Group is relying on the use of green electricity in production and in the supply chain, a consistently increased proportion of secondary materials and natural raw materials, highly efficient electric motors and combustion engines, and a high recycling rate in line with the principles of a circular economy.
It's all in the detail. The floor mats for various models are made from mono- material, thus avoiding material mixes that are difficult to recycle. As a result, the BMW Group saves around 23,000 tonnes of CO2 and an additional 1,600 tonnes of waste yearly since the recycled floor mats and waste material are also reused in the production process.
Research and development in the field of secondary raw materials and sustainable materials are a top priority. Future vehicle generations will offer other attractive alternatives to leather. The BMW Group is working with start-up companies to develop innovative bio-based materials. Compared to the synthetic leathers previously used, these result in around 45% lower CO2 emissions. Mirum, a 100% bio-based material, has the potential to mimic all the properties of traditional leather, while another new material, Deserttex, is made from pulverised cactus fibres. Replacing raw materials of animal origin with these materials can significantly reduce CO2.
Mercedes-Benz
Ambition 2039 is Mercedes-Benz's goal to have a CO2-neutral fleet of new passenger cars and vans across the entire value chain and life cycle by 2039 – 11 years earlier than EU legislation requires. Special attention is paid to the careful use of resources. The company is working intensively on closing material cycles, significantly increasing the proportion of recycled materials and researching new materials that are in harmony with nature.
Sustainability is the foundation of all Mercedes-Benz research and development activities, with the goal to be the technology leader in environmental engineering by achieving more with less. To this end, the Group is accelerating its innovation speed and bringing new, sustainable technologies into production as quickly as possible. At Mercedes-Benz, sustainability begins in the early stages of product development because the company takes a holistic approach to both CO2 emissions and resource consumption. When developing the vehicles, the composition of all materials is considered, and possibilities for more sustainable alternatives are examined. The vehicle interior is an important part of the brand experience for customers, and the highest visual and haptic quality is a top priority, along with comfort, functionality and durability. Since the early days of the car, leather has been synonymous with the high- quality interior features that many customers desire. However, Mercedes Benz is taking a holistic approach to making this luxury sustainable.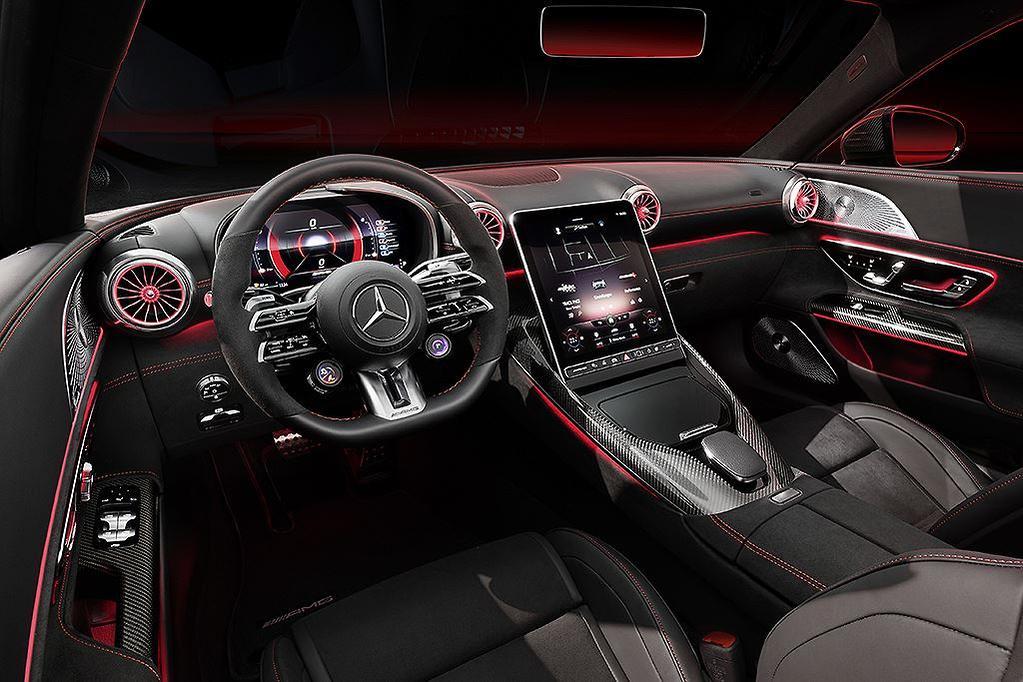 From 2023, Mercedes-Benz will successively offer only sustainably produced and processed leather in all model series. This consideration ranges from livestock breeding to the tanning process. Mercedes-Benz already requires compliance with various animal welfare criteria in its specifications. In addition, an important awarding requirement for suppliers is that the leather supply chain must be free from any form of illegal deforestation and that grazing areas do not contribute to the endangerment or loss of natural forests. The company is conducting intensive research into animal-free alternatives to genuine leather, which should be resource-friendly and offer the highest quality in all parameters.
Through the power of biotechnology, fungal mycelia are growing into innovative leather alternatives in the lab, pointing to the future of sustainable, luxurious interior equipment. Mercedes-Benz offers vehicles in many segments worldwide that have leather-free interior ex-works or are part of an individual customer request. The various trim options include a high-quality leather replica and a microfibre fleece fabric with a suede look and feel. It is used in the vehicle interior as a seat cover, roof lining and pillar trim and contains a high proportion of recycled materials, which will be continuously increased in the future.
In the Group Research division, the company is examining the launch of promising materials that meet Mercedes- Benz's high standards of sustainability and quality. This includes a high-performance plastic with a painted surface obtained through innovative chemical recycling. Another promising material that could be used in rear seat cushions is a partially CO2-based foam. In the polyol, the main component of this automotive- grade polyurethane foam, CO2 that would otherwise be released into the atmosphere is chemically bound. The carbon dioxide can make up to 20% of the weight of the polyol.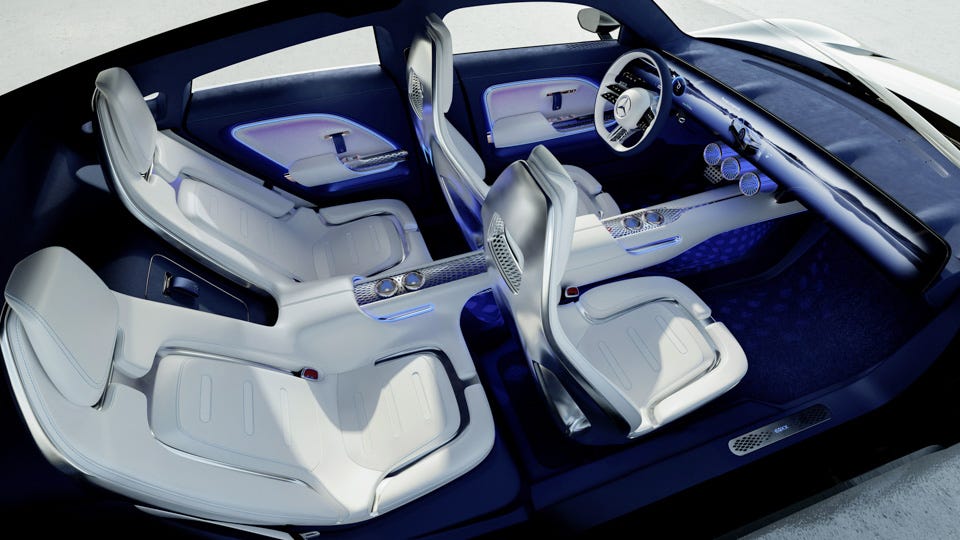 Mercedes-Benz is also intensively researching the readiness for the production of other innovative materials, such as a silk-like, biotechnologically produced textile that is entirely free of animal products, as well as carpets made of bamboo fibres. These materials are not only particularly sustainable but also an exquisite visual and tactile experience.
Summary
It is clear that there is an accelerating demand for more sustainable solutions in all aspects of our busy lives. However, as both BMW and Mercedes-Benz can demonstrate, there is no need to compromise our insatiable appetite for luxury.