There was a time when Michelle and Jarrod Bell thought their 1975 HJ Holden Kingswood wagon might be cursed.
The owners of Eureka Truck Repairs in Gundagai and their three children were 65 kilometres into a 2000-kilometre charity drive in March this year when they suffered the first of three mishaps in one day.
The bad luck started with a smashed windscreen shortly after they'd left Dubbo, the starting point on the four-day drive through regional New South Wales.
"I reckon it was a rock from a car, but not the car directly in front," Michelle said. "We honestly didn't even see it. It just scared the crap out of us."
Michelle and Jarrod's three young kids abandoned their parent's tiger-fur-covered Kingswood wagon and jumped in with one of the organisers of the charity drive.
"He took our kids in his brand new Landcruiser until we sorted the windscreen out," Michelle said. "They sort of bailed on us and said, 'yeah, we're not coming in the car', so that was nice of them."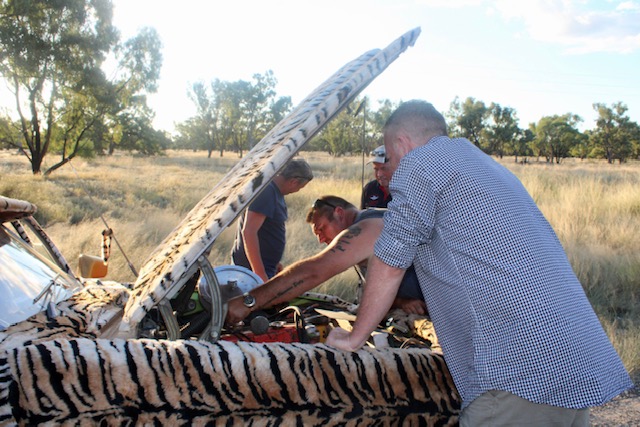 The kids, aged six, nine, and 11, eventually came back when they ran out of juice for their electronic devices. Their chargers were in the car, after all. But they had to wait—because the dramas weren't over for their parents. After the windscreen had been sorted in Gilgandra, their five-speed HJ started losing power between Walgett and Lightning Ridge, their first stop for the night.
Thinking the carburettor was to blame, they started taking it apart only to realise that the fuel line was kinked. With that sorted, they were back on the road. They blew a tyre about 20 minutes later.
No windscreen, in the dark, more than an hour late for dinner and with an old jack that wasn't up to the job. Luckily the charity drive's support vehicle was following closely behind. With the tyre sorted, they finally made it to dinner nearly two hours late. Thankfully that was the end of their bad luck. The rest of the charity drive, which raises money for the Royal Flying Doctor Service and helps local businesses, was plain sailing.
The four-day charity drive started several years ago as a warm-up event for its organisers before they took part in the much bigger Outback Car Trek, which also raises money for the RFDS.
Michelle and Jarrod are keen to join the Outback Car Trek, which is why they bought their HJ a few years ago, but Michelle isn't ready just yet.
"I'm one of those people who can't leave their kids with anyone yet," she said. "When they're a little bit older, we'd like to leave the kids with mum and go on the big one."
Michelle and Jarrod, a diesel mechanic, started Eureka Truck Repairs in Gundagai six years ago, after Jarrod realised the town and surrounding area needed his services. They sponsor the local rugby league team, the Gundagai Tigers, which is partly why their HJ is covered in tiger fur.
"It's like their mascot," Michelle said. "We take it to their footy games and it's got sirens and hooters on it. The kids love to climb it and pat it. It's pretty fluffy. Everyone pulls up and has photos with it."
But the other reason is for a bit of feline fun on the charity drive.
"We go with a bunch of people and they've got a bunch of dog cars covered in dog fur," Michelle said. "We stuck some tiger fur on it (the HJ) and now we just have to keep it dry so it doesn't rust out underneath."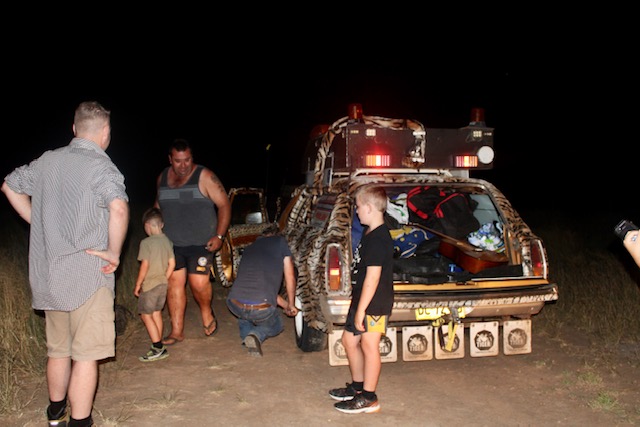 Michelle said their HJ was the "sister" car of the previous Kingswood they had: an HQ sedan. The HQ and HJ had belonged to two friends who had taken them on the KidsFix charity drive. Michelle and Jarrod bought the HQ first, but stayed in touch with the owner of the HJ because Michelle preferred a wagon.
When they sold their sedan, Michelle contacted the owner of the HJ, who reduced the sale price from $11,000 to $6,000 because he knew they would also be using it for charity.
Despite the wagon's shaky start on its first charity run this year, Michelle is confident it can handle the bigger and longer Outback Car Trek. But that'll be in a few years, when she feels more comfortable leaving the kids with her mum.
For now, the HJ spends most of its life supporting the local rugby league team. It's a perfect fit, as the Bell family loves its rugby league, especially the youngest son, Jakeb, who plays for the Gundagai-Adelong Tigers under 7s side.
"We bought him new footy boots last weekend and he's been sleeping with them," Michelle said. "He's a bit of nut case," she laughed.