NCR: By way of introduction, take us back to the beginning.
Albert Bennett (AB): It all began in 1964 when my dad, Bert Bennett (Snr), who was a mechanic by trade, repaired his first car, a Valiant owned by the Ampol Oil Company. At the time, he thought being a business owner was better than being a mechanic, so he hired a spray painter and panel beater and established the business at the rear of the property on which the family home stood.
My mum, Pat, was the head spray painter for the first few years. Coming from an artist background, matching colours was her specialty, with other shops often asking for her to make the colour. Watching how our whole family worked together was just how it was.
I was born in 1970 in that very house at 14 Ruse Street, which, believe it or not, is now my new office, so we've been on the same site since day one. Over the years, we bought the adjoining properties and now the business is located from 6 to 14 Ruse Street and has grown to 26 staff processing 80 cars per week. We're aiming to get to 100 by year-end. We really have a very disciplined process.
NCR: And it's a real family business?
AB: Yes, Dad ran the business for over 30 years, and after I'd completed my panel beater apprenticeship in the late 1990s, he "threw me the keys", and I've been running it ever since. My son BJ (Albert Jalyn) is a second-year apprentice panel beater who won the Young Achiever of the Year in the national Bodyshop Awards in 2021. BJ always wanted to be in the business, so he's doing what he loves. I am very lucky to have a great relationship with my son, whose thirst for the business has re-engaged me somewhat. My elder sister, Julie, is also intimately involved and runs the admin function, and my very-supportive wife, Carrie, has also been involved in the business over the journey.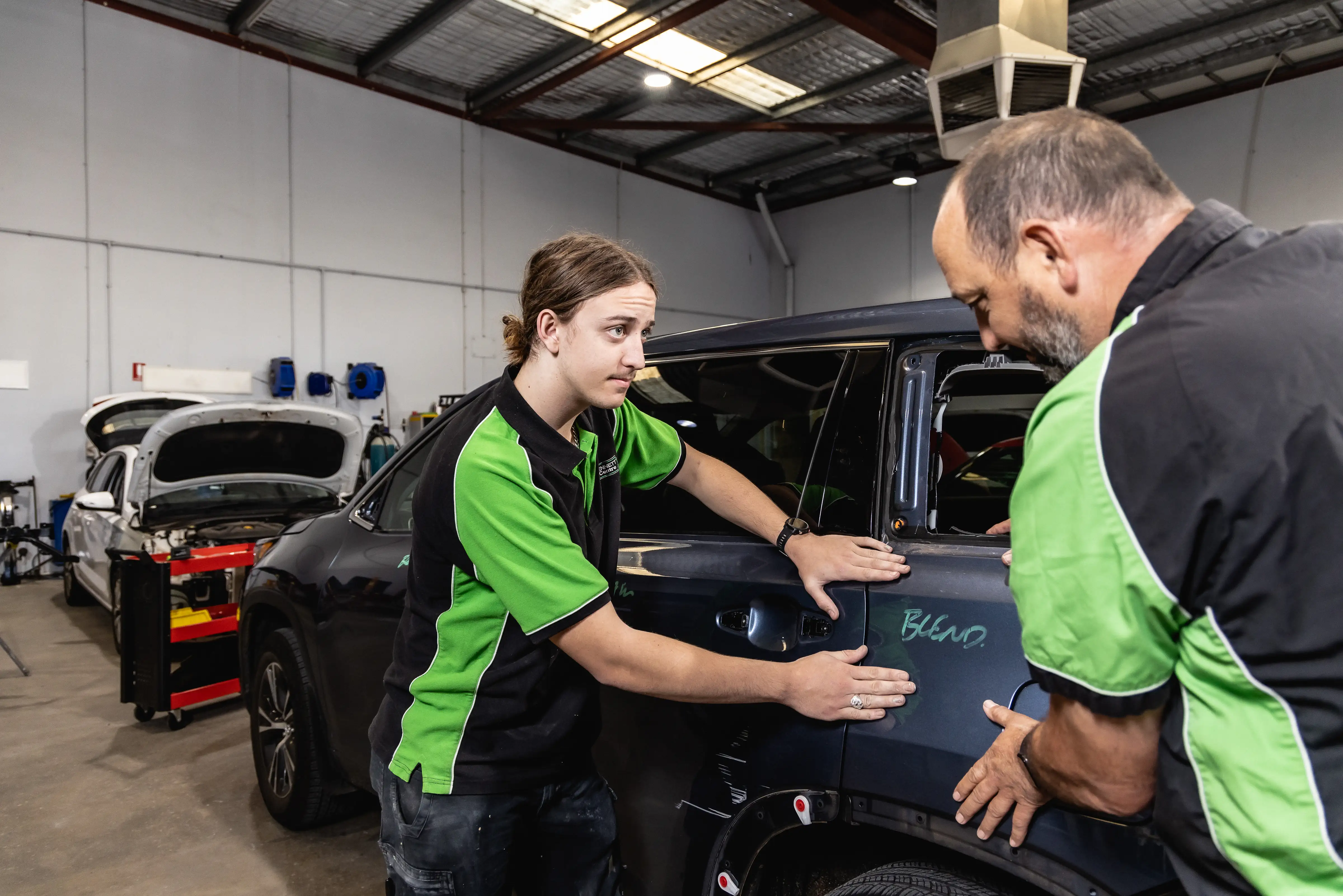 All of this is only possible with Carrie's unwavering support. She has been my rock throughout the journey. Running a large business puts a lot of pressure on your family, but Carrie constantly makes it all work. I am very fortunate. In addition to my son BJ, I also want to mention my older daughter, Teal, who has just finished her occupational therapy degree while juggling being captain of the West Perth Women's football team, and my 13-year-old twins — a boy, Jhett, and a girl, Morgan — both of whom are great at sport and school as well. Anyone who runs a family business really does understand how inextricably linked the family unit is to the business. Without all of them, I couldn't do what I do.
My father, Bert Senior, is still actively involved in the running of the business today, ordering all our parts and taking care of parts suppliers, albeit from home with the ever-changing COVID landscape. My youngest sister, Kellie, has also always been happy to assist Bert Senior with technical issues as they arise.
We also have many long-term employees. Most of our staff have over 10 years' service. Although we've seen some people move on over the years, we are really happy with the high staff retention rate, especially when there is the spectre of big money on offer from the mining sector here in WA. We provide all the necessary equipment and training, and we really do have an excellent team. All the staff get on well with each other, so it makes for a great family environment.
NCR: Tell us about your key suppliers.
AB: Regarding our paint, we have relatively recently switched to AkzoNobel's Sikkens Autowave 2.0 waterborne basecoat, which was triggered by an assessment by Jourdan Calvert here in Perth. Jourdan identified an opportunity to improve our quality and our efficiency and reduce our cycle time – and he was as good as his word. The Sikkens Autoclear clearcoat looks to be cleaner, and we've seen a 10 to 15 car improvement, predominately due to the introduction of the Sikkens Autosurfacer UV primer.
In the workshop, we run mainly Car-O-Liner benches, and the EVO 3 universal system for anchoring, measuring and holding. We also run several Car-O-Liner welders that we believe do the job with a minimum of fuss.
Our main work providers are Allianz and RAC, who are both very good to us, allowing us the opportunity to keep up the workflow and maintain our efficiencies.
NCR: How has the growth of MSOs impacted the business?
AB: Because we were with Suncorp, we had an arrangement whereby we would do their Capital S.M.A.R.T out-of-scope work, and the relationship worked well. Since RAC came on board, we have moved on from this arrangement.
Regarding Repairhub: thus far, we have yet to see them in WA, but as we don't do much work with IAG, we are not expecting them to impact our business to any great degree. However, time will tell.

NCR: Let's talk about technology.
AB: Historically, we have not actively sought OEM approvals but have a great relationship with the broad network of manufacturers' dealers in the north side of Perth, which allows us to keep up to date with their latest onboarding technology.
Regarding the plethora of collision avoidance technology on today's vehicles, we use Snap-on scan tools and are assessing the latest Snap-on developments while awaiting their release in Australia. Until then, we outsource to independent calibration subcontractors, and, of course, there is always the dealer network.
NCR: What can you tell us about your association with Capricorn?
AB: Our association with Capricorn goes all the way back to the early days when my dad was running the business. They made an approach, offering various discounts through the strength of their purchasing power. As reluctant as he was, Dad signed up and found there were even more savings than he expected.
Of course, as a cooperative, Members are the owners of the organisation and as shareholders we are entitled to any dividends that may be declared from year to year. I just love everything about Capricorn. We put everything through the account, and I'll even encourage potential new suppliers to contact Capricorn and get on board. I also want to make mention of Capricorn Mutual, which takes care of all my insurance needs.
Sue Walker, who is the local Capricorn Area Manager, is so great to deal with, and she has become more of a friend than just a business contact. Sue just makes everything so seamless.
As we expanded the footprint, we continued to grow our relationship with Capricorn, which has been a real partner to our business for decades.
NCR: So, what really differentiates your business from others in Perth?
AB: We are a rapid shop, so we tend to get most customers back on the road in one to three days, even if it's a bit more complex. We have the resources to throw people in when we need to. One of the benefits of being such a large business is that many of the parts suppliers will prioritise us, so we keep things moving. In addition, our staff are dedicated enough to work through the night if that's what it takes.
Of course, we never compromise our quality in our rapid-repair business model. We offer a lifetime guarantee on all of our work. It's all about making it as seamless as possible for the customer in what is a stressful time for them.
NCR: What does the future hold for Bert Bennett's Panel Centre?
AB: We'll keep doing what we do to the best of our ability and apply a continuous improvement philosophy. In particular, as the industry embraces electrification, we aim to be at the forefront of electric vehicle repairs in Perth. At a personal level, not unlike many collision repairers, I have an attraction to project vehicles, so in the longer term, I can see the day when my son takes over the business, and I can retire to my project cars.