In the great battle of our age — the battle for dominance between the internal combustion engine and electric vehicles — EVs have just won a great symbolic victory. Not all of them, obviously. Just one of them. Captured, by the team at British Off Road, in Queensland (the guys from Channel Ten Australia's The Offroad Adventure Show and The Australian Bushman DVD series) it crumbled under interrogation. The Perentie switched sides, abandoning the internal combustion engine, and embracing the electric drivetrain.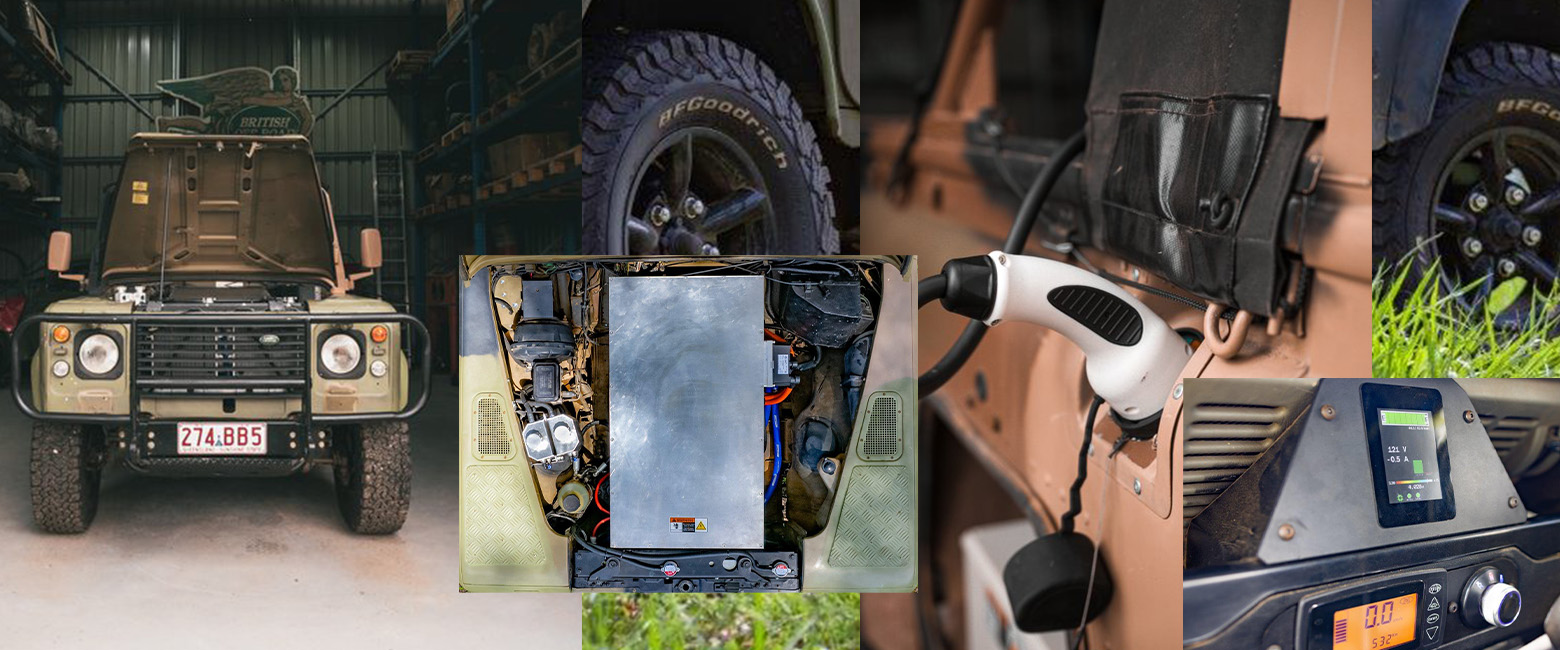 It seems the march towards our shiny electric future cannot be resisted. But, whether we're ready for it or not, at least on this occasion it has provided us with a fabulous opportunity to take a closer look at a genuinely classic military vehicle.
The Land Rover Perenties were built in the late 1980s and 90s, by Jaguar Rover Australia, at Moorebank in New South Wales. They were a military vehicle, ordered by the Australian Army to replace its ageing fleet of Series 2A and 3 Land Rovers. Officially called the Land Rover 110, they were nicknamed Perentie, after Australia's large native goanna (a kind of lizard). A certain generation of Australians may remember the Perentie as the vehicle driven by former Army major Les Hiddins on his ABC TV show, The Bush Tucker Man.
Both one-ton 4x4 and two-ton 6x6 versions of the Perentie were built. Based on the Defender, they had either a 3.9-litre four-cylinder Isuzu 4BD1 diesel engine or a 4BD1-T turbo engine. They were, perhaps not surprisingly, practically bombproof — with a galvanised chassis strong enough not to warp when being lifted by a helicopter (seriously), a widened rear to accommodate the spare wheel, load-sharing leaf-sprung rear axles, and a wider-than-standard cab. Maximum torque? About 1800 rpm, depending on your variant, with most available at idle.
This combination, bespoke to meet the requirements of the harsh terrain and demands of the Australian Defence Force, resulted in a vehicle many consider the best Land Rover ever produced. The Perentie was right there alongside our soldiers in Timor Leste (then East Timor), Somalia, the Solomon Islands, Iraq and Afghanistan. Little wonder, then, that there is so much affection for them. And it's also no surprise that, since the Australian military began selling them off in 2013 as part of their regular fleet replacement, Perenties have been snapped up by enthusiasts across the country (and overseas). They just scream, "I am fun; buy me; drive me".
Being Perenties are ex-military vehicles, Australian regulations do require that anyone who buys one makes a few modifications to make them safe to take on the road. That's to be expected. What the Government hasn't insisted you do is whip out that 4BD1 and replace it with a fully electric drive train. Yet that is exactly what the team at British Off Road have done, after receiving a request from a forward-thinking customer.
The formerly thundering two-ton diesel is now as whisper quiet as a Dishlex dishwasher. The old engine bay is now home to five 5.3 kWh Tesla battery modules and all their associated electronics and components. Underneath is a single 100 kW electric motor. There's a second of these in the tray, too — shifted back to help with weight distribution. It gets about 150 km on a charge, but as British Off Road co-owner Mark Calder told the MTA Queensland's Motor Trader magazine in March last year, range wasn't the point of the conversion. The owner of the vehicle didn't want a large battery or a powerful motor. The conversion was focused on weight distribution and off-road performance, instead.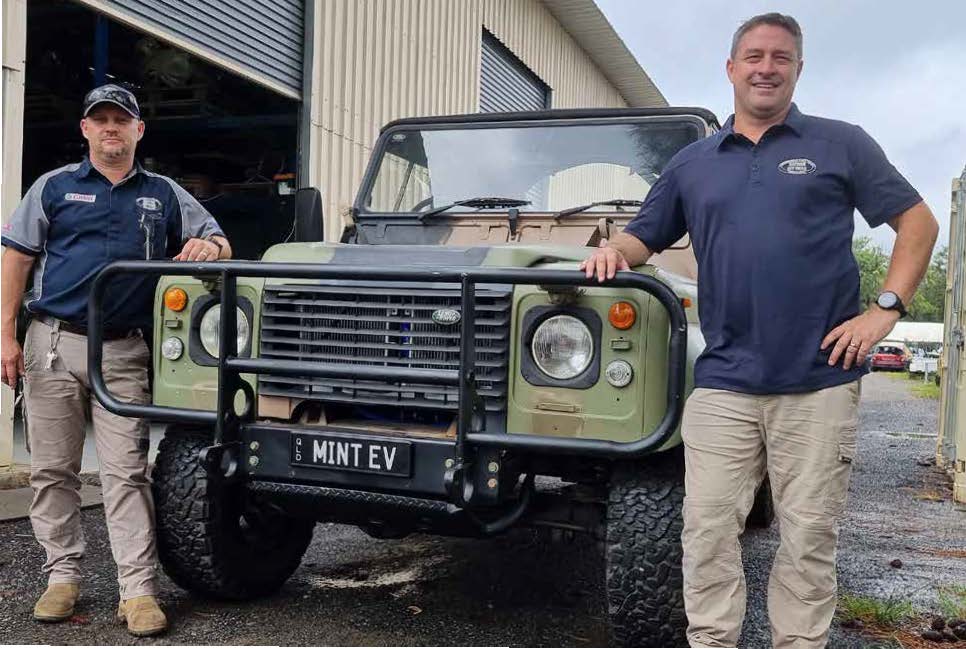 Ross and Mark, Business Development Managers from British Off Road
British Off Road has partnered with a company called Mint EV on the Perentie conversion. It was not their first collaboration, nor will it be their last. They describe their business as "a full-service workshop for converting your classic car to an electric vehicle –any make or model". With the need to meet net zero targets and to combat climate change really starting to shake up our industry, British Off Road's bespoke EV conversion service may well be the business model of the future. While the electric Perentie might be of no use to the Bush Tucker Man, it's clearly a winner with the Perentie fan who bought it and converted it.
Some may see that conversion as akin to sacrilege. Others, perhaps those who can see that the battle is lost and understand which way the fortunes of fate lie, will see it as it as ensuring future generations get to see, drive, and fall in love with this Australian military classic.
| | |
| --- | --- |
| Motor | Netgain Hyper 9D IS : Hyper 9D 100v dual shaft motor and Hyper-Drive X1 inverter/controller |
| Battery Pack | Tesla 5.3 kWh - 10 modules for 53 kWh total |
| Battery Management System | Thunderstruck BMSC + BMSS, monitoring 60 cell blocks within the Tesla modules |
| Electric Vehicle Charge Controller | Thunderstruck EVCC |
| BMS/EVCC Display | Thunderstruck Dilithium Design EV Display |
| Charger | Two 2.5 kW Thunderstruck TSM2500 chargers (5 kW capability) |
| DC-DC | DSD1200 High Voltage 1200 watt DC-DC Converter |
| Charge port | Type 2 (Mennekes) |
| Gearbox/Transfer case | Reconditioned Defender R380 gearbox and LT230T transfer box |
| Power steering | Defender power steering box with electric hydraulic pump |
| Brake booster | Electric vacuum pump for brake boost |
| Cabin heating | High voltage PTC (Positive temperature coefficient) |