Despite going out of production more than four decades ago, it retains a place in the Australian consciousness in a way that very few other makes can claim. It is a true icon of antipodean motoring.
In 1968, when Holden launched the original six-cylinder HK Kingswood to replace the mid-sized Holden Special in its revamped production line-up (a line-up which included the Monaro), it was available as a sedan, a station wagon, a ute and a panel van. They were larger, heavier and completely redesigned from the HR series they replaced. It was a winning formula and the ensuing generations of Kingswood models became so popular they quickly became ubiquitous on Aussie roads (almost 200,000 were sold). Later, they would introduce the "one-tonner" cab chassis, which would become a workhorse for an entire generation of tradies and farmers.
In 1971, Holden launched the second generation of Kingswoods, starting with the HQ. This was a radical redesign—with either 2.85 or 3.3 litre six-cylinder engines or 4.2 or 5.0 litre V8 engines, a coil-spring rear suspension and a semi-monocoque construction. It was a thing of beauty. Holden's advertising told us the HQ was "the great way to move", and Australians agreed. It became Holden's bestselling car, with the company shifting almost half a million of them in the ensuing years.
As the motoring website classicrally.com.au put it: "The Kingswood was the car a real Aussie bloke would drive. A proper, big, tough, no bull kind of a car. You could 'hang the tail out' on a dirt road, and if you had the wagon, you could also chuck your kids in the boot. And your mate's kids.
"Of course, he'd only had Holdens before — like his father before him. Of course, he would never consider buying a Ford. His Kingswood was a much better car than the model he'd had before, and that was what mattered. And was the only method of judgement."
Those who were buying Fords were buying Valiants or, a year later, Falcons. When the XB Falcon started outselling the Kingswood, Holden fought back with the HX—the most enduring icon of this model being the "Sandman" panel van, with its distinctive 70's logo on the tailgate, which could be seen parked up at popular surfing beaches around the country for the next couple of decades.
In 1977, Holden introduced the HZ—it's final iteration of the beloved Kingswood. There were few real changes to the design or the engineering, although it did include Radial Tuned Suspension and the introduction of radial tyres. By the time the hapless Ted Bullpit on the classic (if now incredibly dated) 1980s comedy Kingswood Country was shouting, "you're not taking the Kingswood" at his family on our TV screens, the vehicle itself had gone out of production. Kingswood production was cancelled in 1980, absorbed into and replaced by the smaller Holden Commodore.
There was perhaps a time, for a while there, where the Kingswood was daggy. The Sandman fell out of popularity with young people. The only people hanging onto their HQs were the real-life Ted Bullpits of this world. But a classic is still a classic—and by the late 90s, Holden fans were seeking out Kingswoods for restoration jobs.
Among the Kingswood fanboys is Capricorn Member Joshua Doutch, managing director of WA-based autoelectrical business Voltaic—who is the proud owner of a HZ.
"I bought it around 12 years ago, back in the days when AutoTrader magazine was still popular for classic cars," he said. "I noticed this blue HZ Holden in a number of issues. "At the time I had been working for my employer for 13 years and had just received my long service leave. This is the company I did both my mechanics and auto electrician apprenticeships with. I was only in my mid-thirties and I thought myself too young to take long service leave, so I had it paid out and used the money to buy the HZ. It became my personal reward for completing those years of work. It's now a car that represents a trophy for the completion of the start of a career that has directed my life."
Over the years Joshua has made a lot of improvements. The engine bottom end has been fully rebuilt and decked, with forged internals and the heads reworked and valved to flow at 500 hp. The HZ now has Crane Cams roller rockers and hydraulic lifters, the heads and manifolds have been port matched, and an electronic ignition has been installed, as has a 650 Quick Fuel carburetor, a 100 shot NOS kit, and a bug catcher. It has a new Hughes TH400 transmission with trans-brake, along with a 2600 rpm stall converter, a Quicksilver shifter, and Pedders bushes on the suspension.
The interior has been reupholstered and an Alpine stereo system installed, along with an Autometer tachometer. In time, he hopes to install a big block. It might not quite be the Kingswood Ted Bullpit would recognise, but it's certainly a classic that'll catch the eye of any car fanatic who sees it.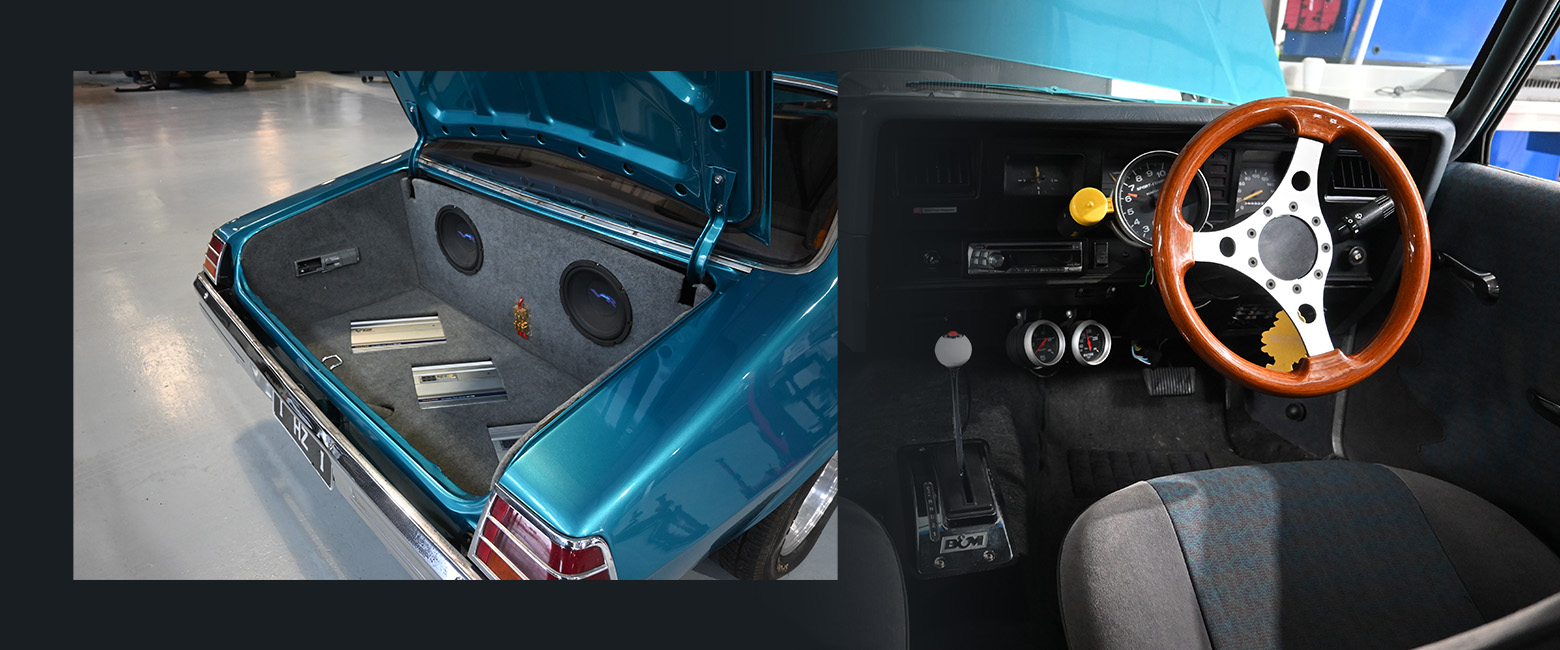 Aussie roads might no longer be dominated by the Kingswood, but Joshua's HZ will always be the king of any road it's on. "A few times a year I get to bring back my youth, and cruise," Joshua said. It's great to see this absolute classic still being driven and enjoyed.