If you had to come up with a shortlist of cars that made every last member of your family smile when you saw one on the road, what vehicles would you include?
The original Mini and VW Beetle are no-brainers. The Fiat 500, perhaps? The Morris Minor? Chances are today's Classic Ride, the Citron 2CV, would be somewhere up near the top of your list.
This adorable ladybird of a car was produced for a remarkable 42 years, from 1948 to 1990. It looks like it was designed by a French tourism marketing board specifically so pictures of it could adorn postcards and tins of biscuits for eternity, alongside images of bicycles, Breton-striped shirts and baguettes. But its original design brief is even odder than that. Citroen wanted to build a vehicle that could carry four people and 50 kg of goods at 30 mph (48 kmh). Famously, the original design brief in the 1930s said the 2CV should be able to carry a basket of eggs across a ploughed field without breaking them—a fact that has been tested by everyone from newspaper columnists to the Top Gear team in the years since. In short, the 2CV wasn't designed to be just loveable and characterful, it was meant to be a practical vehicle, too. Citroen wanted to create a vehicle useful enough to convince French farmers to switch from horses to automobiles.
An early version of the 2CV had been ready to be unveiled at the 1939 Paris Motor Show, but the show was cancelled when World War II broke out. During the German occupation of France, Citroen's president, Pierre-Jules Boulanger, hid designs for the 2CV from the Nazis and refused to collaborate with the German authorities. That saw him listed as "an enemy of the Reich" and he faced constant threats of arrest. Boulanger kept developing and improving his design and what we know as the original 2CV was unveiled at the Paris Salon in 1948. It had an air-cooled, 375 cc, two-cyclinder engine, generating nine brake horsepower (hold onto your hats, that's 6.7 kW, or two horsepower). It trundled along at 40 mph (64 kmh).
The secret to its egg-saving smooth ride was a clever suspension design that used interlinked coil springs, combined with a low unsprung weight, a low centre of gravity and Michelin's brand spanking new radial tyres.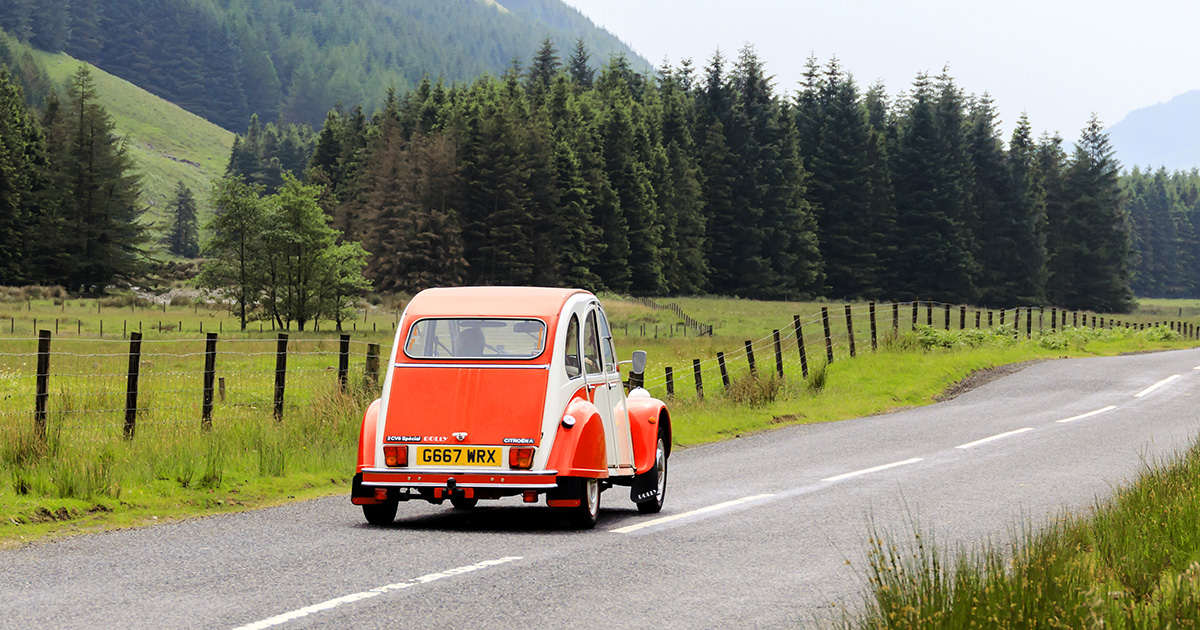 Citroen was flooded with orders and there was soon a five-year waiting list. Just 876 2CVs were produced in 1949. Almost 6200 were produced the following year, and more than 16,000 in 1951. By the time production finished in 1990, more than five million 2CVs in a variety of cultishly beloved models had been produced.
A van model, the Fourgonnette, was released in 1950, and the twin-engine, four-wheel-drive Sahara was released in 1958. The 2CV would continually evolve between models, embracing the latest technologies and innovations, with a major design overhaul in 1965, including the end of coach-style doors and new gearing on the transmission.
In the 1970s Citroen enlarged the engine from 425 to 435 cc (26 horsepower or 19 kW) and began producing a number of special edition 2CVs, including a yellow edition inspired by James Bond, after the vehicle appeared in 1982's For Your Eyes Only (complete with fake bullet holes, no less). Popular models included the Dolly and the Charleston.
In 1988 the last 2CV rolled off the production line in France. Production in Portugal finished two years later. The 2CV is the rarest of vehicles: a car that was instantly and universally beloved, became a huge commercial success, and is still beloved today, more than 30 years after production ended. Yet we see very few of them around. The big killer has been rust. Those beetling around the roads today in classic car runs mostly have new galvanised chassis. They're also a bit high on the maintenance. The kingpins need greasing every 1000 miles (1600 km), the oil needs changing every 3000 miles (4800 km) and it needs a new filter every 6000 miles (9600 km). Still, if you own a 2CV you're probably not driving it six hours up the coast on a fishing trip, even if you're taking a basket of eggs and have a ploughed field to cross on the way there.
The secret to the 2CV's success was its simplicity. Like the VW Beetle and the Fiat 500 Topolino, this was very much a "people's car", democratising access to the automobile. The Nazi-hating Boulanger (who is very much the hero of the 2CV story, despite dying in a car crash in 1950), had insisted that sales of early 2CVs were prioritised according to need. Specifically, he prioritised those who had to travel by car for work, and for whom ordinary cars were too expensive to buy. So, doctors, midwives, vets, farmers and priests were among the 2CV's first owners—spreading the 2CV's popularity (and eggs, presumably) far and wide.