If a hybrid or an electric vehicle (EV) pulled into your workshop today, would you be able to service it?
Unless you're particularly well prepared, the answer is probably not. And for many workshop owners, why would you be prepared? There are hardly any EVs on the road. According to data published in Cars Guide, only 20,000 EVs were sold in the whole country in the past decade. We know from Capricorn's State of the Nation Report 2021, that nine out of 10 Members are not seeing any EVs in their workshops at all (Figure 1).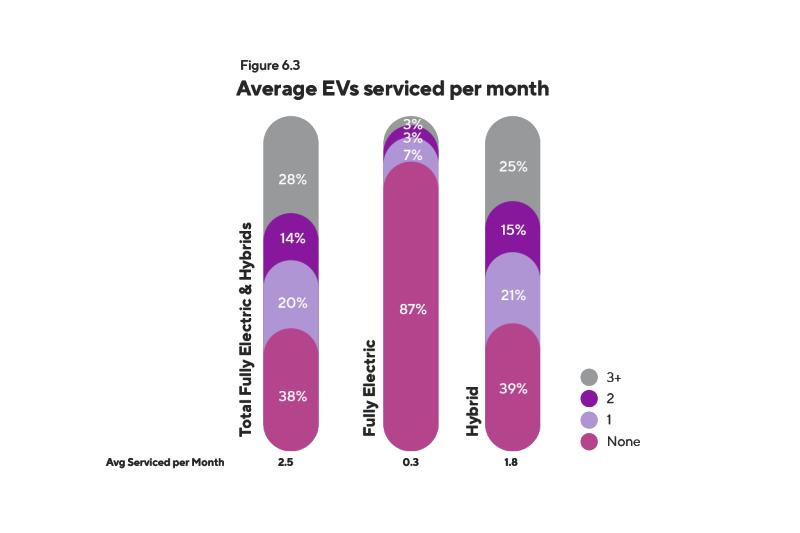 But all that is set to change: EVs are coming — and any workshop that wants to keep its doors open in the long term is going to need to get ready. The good news is, right now — before EVs are the norm — is the ideal time to prepare.
We asked Jonathan Sampson, Sales and Product Director at automotive educational company Autodata Training, what workshop owners need to do to be ready for EVs. Here are his top tips.
Face up to the reality of EVs
State of the Nation asked Members how prepared they are for EVs. Just 17% said they were, or soon would be, ready to service EVs; 27% said they weren't interested in servicing them at all.
"I think the most common line we get from people in the industry is 'it's not coming, mate, and if it does, it'll finish me off; I'll just pack up anyway'," Jonathan said.
"But denying EVs are coming is not a formula for long-term success.
"It's not our government that has brought this in, the vehicle manufacturers are out there inventing this new technology because it makes sense for them.
"EVs are coming — and it's not actually that scary."
According to Bloomberg data, 18 per cent of new cars in Australia should be EVs by 2030 and 64 per cent by 2040.
Use this time to get your technicians trained
While you might not be seeing any or many EVs now, when they do start rolling in the door you'll need to be prepared. While there's much on an EV that will look familiar, it's a completely different beast to an internal combustion engine — and the electricity it uses is high-voltage, so you want to ensure your technicians know what they're doing.
"Your team should participate in absolutely any training that's available," Jonathan said. "They should read any articles they can get hold of, whether that's in journals from Capricorn or AAAA, or some of the stuff that's online.
"There are many more options in 2021 to upskill yourself than there were 30 years ago when fuel injection came in. It's about having the appetite and the nous to actually go out there and educate yourself."
Training for EVs now means you won't be turning them away as they become more common on the road.
Keep abreast of what's happening
Similarly, Jonathan said it is important to keep across developments in EVs because customers will be reading about them and will expect their mechanics to be aware of what is happening.
"If nothing else, customers are going to start walking in and saying, 'I read an article the other day that said Ford's not making any more petrol cars after 2025.' And if we laugh at that or don't even know how to respond to that, or that it's even happening, the customer is going to go away and not come back," he said.
Start investing in the right tools and equipment
Serving an EV, like servicing any other vehicle that comes into the workshop, means having the right tools to do the job. Jonathan said there is a range of tools workshops will need to invest in.
"The simplest one is a $1000 ratchet set that's fully insulated," he said. "So, it looks like normal ratchets and an extension, but it's got plastic on it.
"There are also some different screwdrivers and pliers and tools like that. Then there's things like linesman's gloves, like they use for electricity lines, because when you're repairing EVs you should wear 1000-volt rubber gloves.
"For $3000 or $4000 you can get a range of tools that mean, for example, you can depower and do some work on a Toyota Camry or a Prius. You're not buying $15,000 scan tools."
Invest in confidence
Jonathan said it is important that technicians feel confident working with EVs. That means having the right training, understanding the vehicles, feeling comfortable that they understand how to work with electricity, and having the right tools at their fingertips to do the job correctly and safely.
"A good place to start is to brush up on your electrical knowledge and skills," Jonathan said. "You don't really want to go from no electrical knowledge straight into high voltage on an EV. You really want to get the basics right first."
Download your free copy of State of the Nation 2021.