It can help you answer questions like whether you should take on more staff, whether you need to improve your productivity or whether your monthly turnover is about right for a workshop of your size.
But how do you find out that kind of information? Well, fortunately, Capricorn's State of the Nation 2020 survey has given us the opportunity to take a deep dive into exactly that kind of data.
Around 1500 Members, from all kinds and sizes of workshops across Australia and New Zealand, took part in our survey. It has provided an excellent snapshot of the auto industry against which Members can compare their own businesses.
Let's start with a breakdown of how our industry looks, according to the survey findings
How old are workshop owners in Australia and New Zealand?

The average age of people who own workshops is 50 in Australia and 51 in New Zealand. Here's the age breakdown (Note: percentages are rounded).

An important sidenote:

State of the Nation also found 62% of workshop owners have no succession plan in place. That group includes 44% of workshop owners over the age of 55.

To find out more about why it is never too early to put a succession plan in place, read our report.
What do these workshops look like?
Most Members operate independent workshops. Of those Members who took part in the research, only 8% were part of a chain, group or franchise.
Here's how they look when broken down by business type
How big are these workshops?
Let's look at the breakdown of these businesses according to staffing levels, number of hoists and the number of vehicles seen per week.
It's worth noting that, on average, businesses have 4.5 employees, have three hoists, and see roughly 30 vehicles a week. Australian workshops tend to have five employees, while NZ ones have four.

(Note: the percentages in these three charts are rounded.)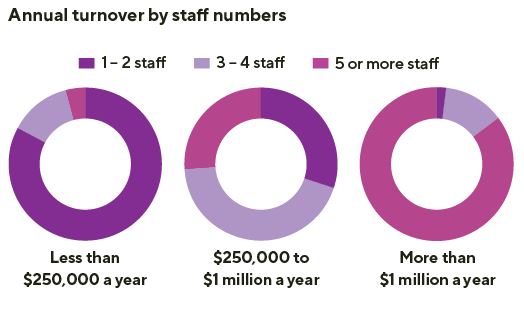 What is the annual turnover of workshops? New Zealand businesses average $1.02 million in turnover, while Australian workshops average $841,000 a year. As you'd expect, there is a strong correlation between the number of staff a workshop has and the turnover. But, as these figures reveal, clearly some workshops are more efficient or productive than others.
(Note: percentages are rounded)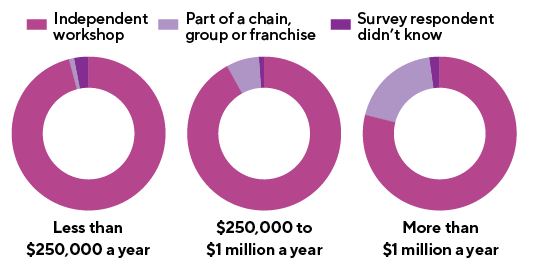 Business structure also makes a difference to turnover. Turnover for chains, groups and franchisees really starts at around the
$1 million mark.