What about the parts you'll need to keep in stock to service them next year? Or the year after that? Or in four years' time?
It might sound ridiculous, but that's exactly the kind of planning smart workshop owners are doing regularly — and there's a very simple tool that's helping them do it — the Australian Automotive Aftermarket Association's Car Parc.
By using Car Parc, business owners know money and valuable space aren't being spent on stocking parts they're unlikely to need. They can work out the spare parts they're most likely to need today, tomorrow, and well into the future.
Meet Daryn Brims from Maryborough Service Centre
One Capricorn Member who does just that is Daryn Brims. He owns six automotive businesses between Brisbane and Bundaberg in Queensland, including a Pedders outlet and the Repco-authorised Maryborough Service Centre.
Daryn said spending time looking at the Car Parc data is an essential part of his business planning.
"I use it to know what vehicles are in the area, what kilometres they're at, and what is likely to fail in particular," Daryn said. "Then I can make sure our businesses have got all the stock needed to support those vehicles and, even more so, make sure we've got all the go-to scan tools.
"I don't want a customer to turn up and have to say 'sorry, sir, I can't help you'.
"I also use it to analyse what's coming and try to stock our warehouses and our stores with the right parts, in the right spot."
Like many workshop owners, Daryn keeps his stock of spare parts as lean as possible. He said the Car Parc data helps him achieve that efficiently, without compromising or risking letting his customers down.
"We might get a lot more European cars in one area," he said. "So, we look at that data and make sure we've got strong supplies of parts. For example, we're the motorhome capital of the world up here, so we know to make sure our Pedders store has a lot of control arm sprinters!"
How Car Parc works and the data available
AAAA's Car Parc is a simple, interactive tool that uses real-world data to help you find out what vehicles are the most popular in your area.
The tool generates a customised report, specific to your locality. That makes it incredibly useful for all kinds of business planning — not just planning of spare parts you need to stock but everything from which scan tools and equipment to buy, what training to invest in for your team, and what messages to use in your advertising.
Car Parc uses actual statewide and national demographic data. At a click of a button you can get detailed information about the cars being used in any local government area in the country. You simply choose a postcode and Car Parc generates a series of graphical reports with detailed and useful data.
Let's look at an example of the data available, using the postcode for Daryn's Maryborough Service Centre — 4650.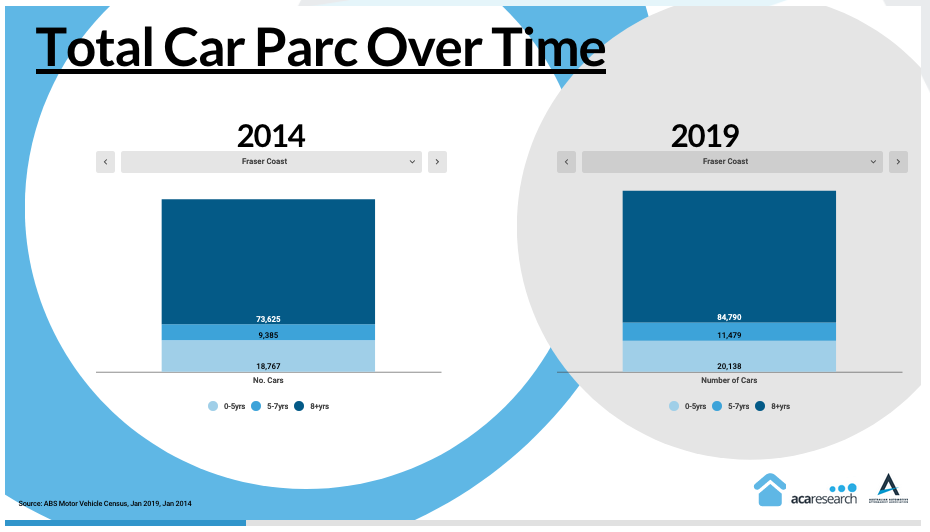 The first screen tells Daryn how many vehicles there are in his local government area. It provides two snapshots — one from 2014 and one from 2019.
Crucially, it also tells him how old the vehicles are and, therefore, the pool of vehicles that will be out of the manufacturer's service warranty and whose owners are more likely to consider using an independent workshop.
The number of vehicles less than five years old gives Daryn an indication of the mix of vehicles comes down the pipeline.
It's an interesting snapshot, but from there Daryn can really drill down into the data.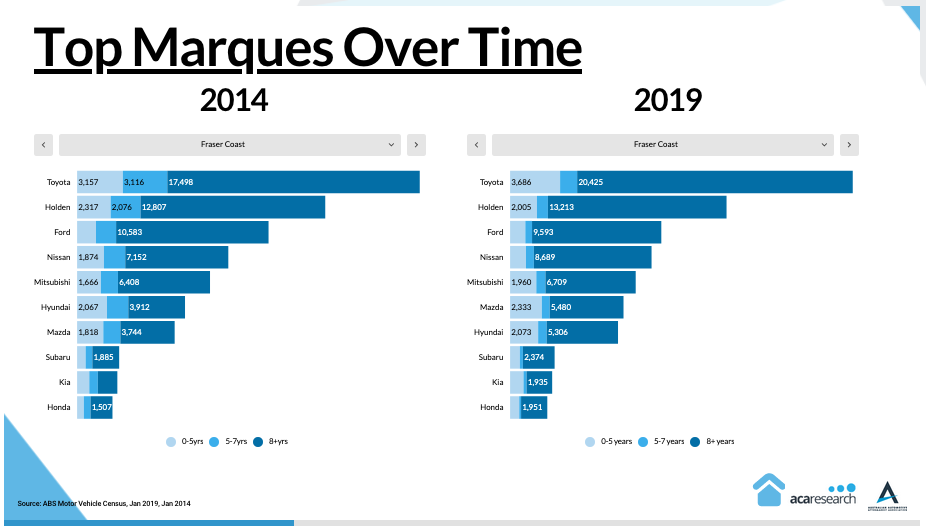 The second screen shows Daryn a breakdown of the makes. Again, it shows him both the number and the age of the vehicles, and comparing 2014 to 2019 gives him the trend.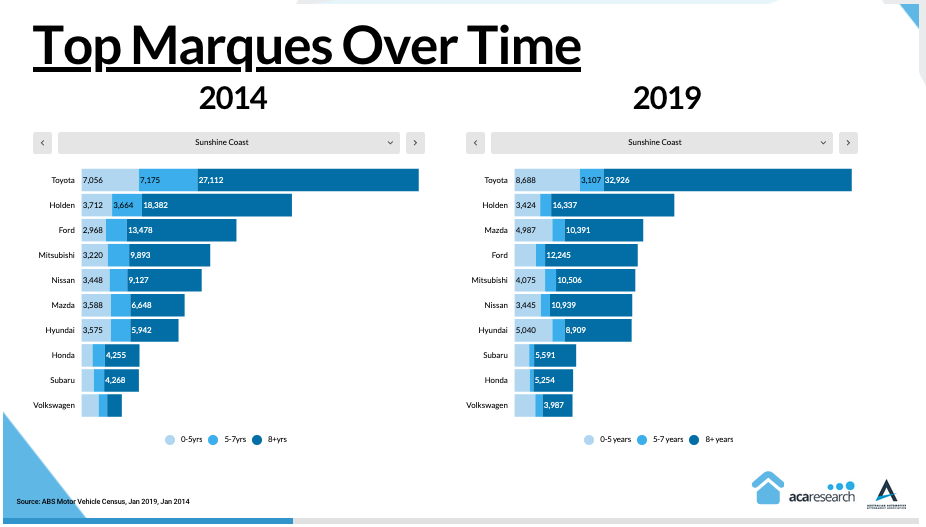 Daryn can then compare the data for Maryborough to the data from any of his other local areas.
From the snapshots above you can see that while Toyota reigns supreme and Asian makes are the most popular in both areas, Volkswagens are becoming increasingly common in Maroochydore.
From that information, Daryn may want to stock some Volkswagen parts in his Maroochydore workshop, whereas that might be less important in Maryborough.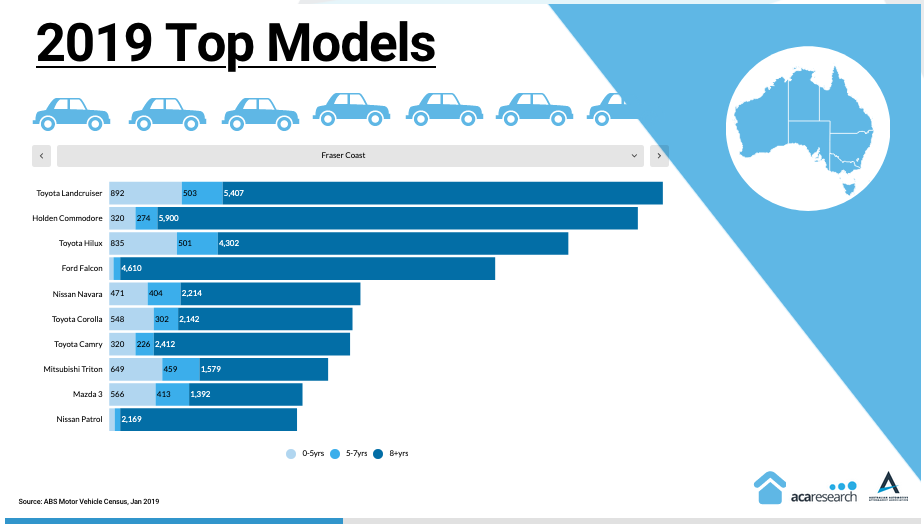 Car Parc then presents users with a breakdown of the most popular models, across all makes, in the local area.
This tells Daryn there are more Toyota LandCruisers on the road in his area than any other vehicle. But he can also drill down further and see that, of those vehicles that are older than five years, there are actually more Holden Commodores than LandCruisers.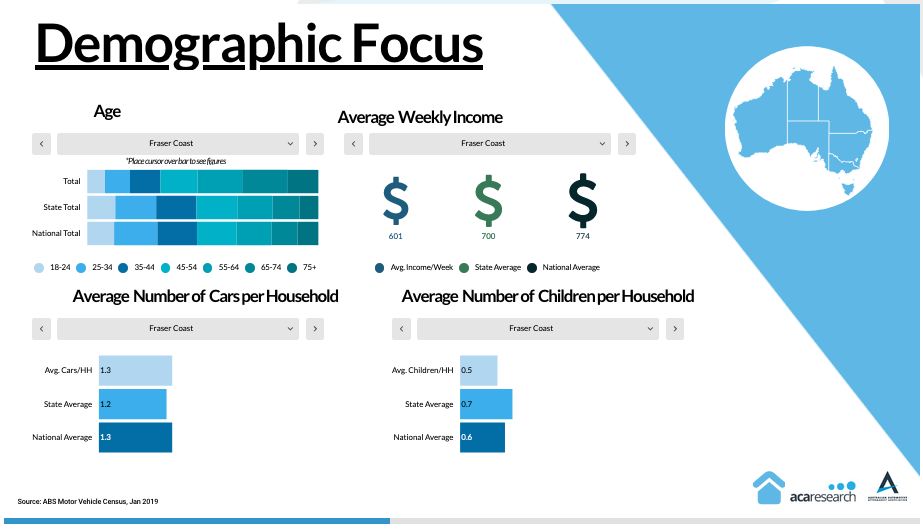 Car Parc also gives you data on whom your potential customers are, including how much they're likely to be earning compared to the state and national average, how old they are, how many children they have and how many cars they're likely to have in their household.
This information is particularly useful when it comes to advertising and targeting your messaging.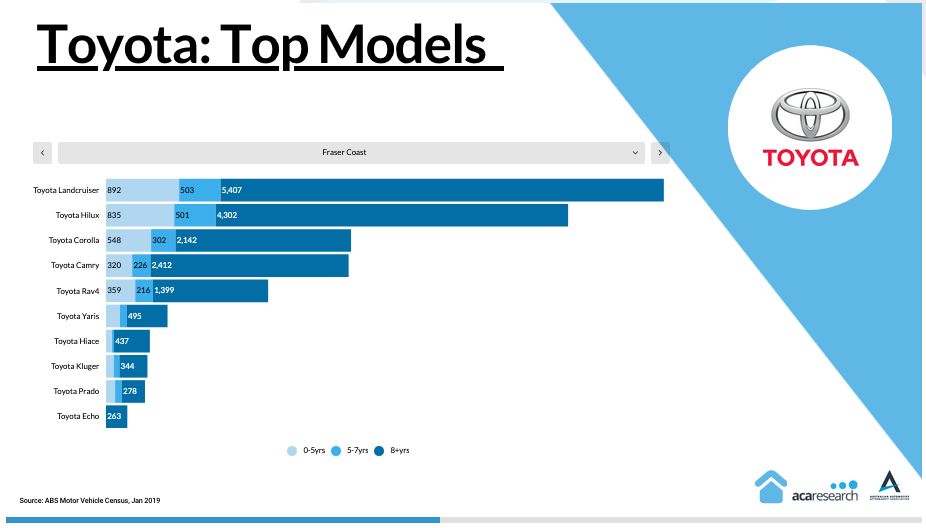 Next, Car Parc gives you a detailed breakdown of vehicles in your local area by make and model.
We're showing Toyotas here because they're the most popular car manufacturer in Daryn's area, but Car Parc also provides data for all the other most popular vehicles, including Holden, Ford, Nissan, Mitsubishi, and so on.
Deploying Car Parc Data to supercharge planning your parts buying
Knowing what kinds of cars are driving around your local area is handy, but it's how you use that information that really matters.
One of the key areas where Daryn uses that data is in deciding the parts he needs to stock at each of his businesses.
"You look at the age of the vehicles and you can calculate what they're averaging — maybe 20,000 or 25,000 kilometres a year for some of these light commercial vehicles," he said. "Then we can predict what (parts will) fail at 90,000 km, 120,000 km, 150,000 km, and so on."
Daryn said he also uses the data from the various areas where his businesses operate to make decisions about stocking parts in his warehouse based on what second-hand cars are available and likely to come into his areas.
"I also just like to have a bit of a roll through to see what's surprising in the trends," he said.
Taking the potential of Car Parc data even further
Lesley Yates is the Director of Government Relations & Advocacy at the AAAA. She said it was great to see Daryn using Car Parc to plan his parts purchasing and stocking.
"Workshops regularly maintain stocks of commonly replaced parts and we are certainly aware that for regularly replaced service items, including oil and lubricants, workshops maintain a level of supply on their shelves," she said.
"Maintaining stocks can be expensive if these are not turned over regularly. It's great news to hear that the Car Parc data is providing the intel to get the stock ordering and parts installation balance right.
"If you know which cars are likely to be coming in, and what year they were manufactured, the Car Parc data provides the right intel to guide which parts should be maintained on the shelves and which parts should be ordered for just-in-time delivery."
Lesley urges other Capricorn Members to take a closer look at the data available in Car Parc and to leverage that information to supercharge the efficiency of their businesses. She said Members regularly use the tool to inform businesses decisions as diverse as marketing activities and staff training.
A last word on advertising and the Car Parc tool
Daryn has been using Car Parc data not just at his Maryborough Service Centre but at all six of his businesses for the past four years. He said its data has helped to transform his business.
Car Parc is now an essential tool not just for spare parts planning, but for growth and decision-making in several key areas — including which scan tools, hoists and equipment to buy.
"There's no point buying a hoist that's going to lift low cars when the majority of the market are soon going to be SUVs," Daryn said. "You need to make sure you set your business up for success going forward, and you can do that with the information that Car Parc provides."
While Daryn runs a large business across several sites, he said every workshop owner and manager should be using the Car Parc tool, no matter the size of their enterprise.
"Understand the data and own your market," he said. "Make business decisions based on what's going to come through the door tomorrow, not what you see coming in the door today."
Want to try AAAA's Car Parc tool? AAAA members can click here.
Want to learn more about the Car Parc tool but not a AAAA member, click here or email info@aaaa.com.au
This article was published 23/06/21 and the content was current as at the date of publication.