It's exactly the kind of scenario people often use as a reason electric vehicles will never work in a country like Australia, with vast distances that are sometimes devoid of service stations. After all, you can't just throw a bit of extra fuel in a jerry can and take it with you.
Or can you?
Renault has tackled the range issue in its Morphoz by giving the vehicle the ability to extend its length by 40 cm (from 4.4 m to 4.8 m) to fit in an extra 50 kWh battery. Hence the "morph" in the car's name: it can literally transform itself to accommodate the battery. The car gets a little bit more length, and you can get nearly twice as far.
It's a clever solution: a shapeshifting SUV crossover. But will it ever become reality?
Well, so far this particular concept from the Morphoz concept car hasn't made it into production. Indeed, the whole idea might even have already been surpassed by technology. Renault's new Megane E-Tech SUV, unveiled at the Munich Motor Show in September 2021, has two charging options. The second option takes 30 minutes longer to charge, but gets you an extra 300 km. (Interestingly, the electric Megane is shorter than the Morphoz, at 4.2 m in length.)
But that doesn't mean morphing cars aren't on the horizon. In August Audi unveiled its (very cool) concept for an electric roadster called Skysphere. It extends its wheelbase by 25 cm (to 5.2 m) when it switches from sports to grand touring mode.
Let's get back to the Morphoz.
Renault says Morphoz is "a 100 per cent electric adaptable crossover concept car which charges by induction even as it is being driven". It is connected and equipped with Level 3 autonomous driving functions.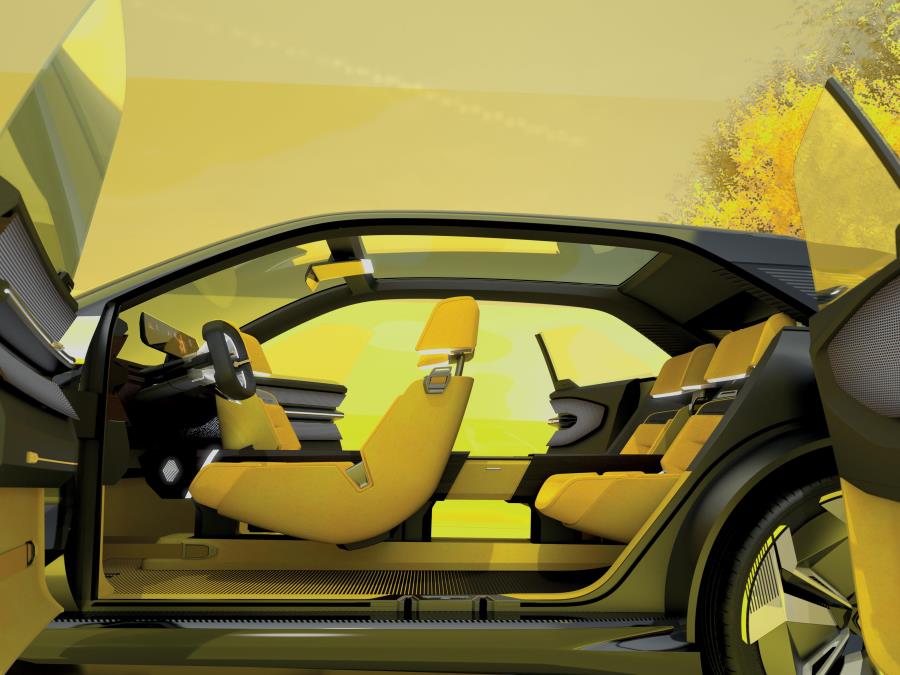 "The driver is free to move their eyes and hands once delegation has been made," Renault says. "(The driver) can use the car's multimedia system to dictate emails, text messages or play multimedia content, for example.
"The vehicle can handle the distance from the vehicle in front, staying in lane even on bends, and moving in traffic jams. However, the driver must be able to take back control very quickly (a few seconds) upon request of the system. It may occur in bad weather conditions or in the absence of road markings, for example."
So, that's the drive, what about the bling?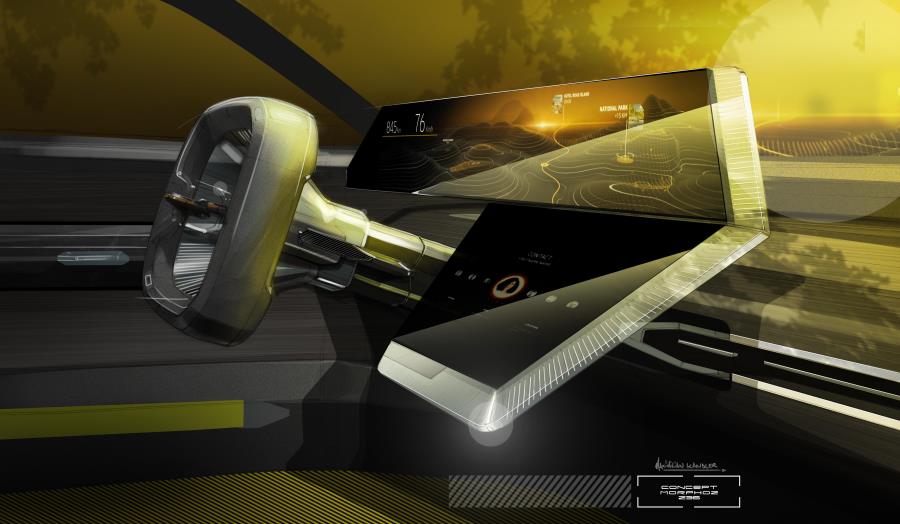 "At the driver's approach, the Morphoz runs a light sequence to show that the driver has been detected and recognised by the vehicle's sensors," Renault says. "A wave is all that is needed to unlock the vehicle and open its doors. Their reverse-hinged opening, combined with the absence of a B-pillar, makes it easier for passengers to get into the welcoming passenger compartment, which is illuminated by the yellow of the seat fabric and centre console."
There's a futuristic steering wheel with a 26 cm screen in the centre, that displays driving and safety information. Behind this steering wheel there is a surround dashboard and multimedia screen. And what's a concept car these days without a crazy seat concept? No chaise lounge or marble magazine rack for Renault, they've chosen a swivelling passenger seat instead.
Then there's the sustainability aspect. The Morphoz uses a lot of recycled materials, including wood for the dashboard, plastics for the inner doors, and fabric for the seats.
Hopefully they'll find a way to recycle all those old jerry cans, too—because it looks like we're not going to be needing them anymore.
Fact Box
| | |
| --- | --- |
| Length: | 4.40 m (City version) / 4.80 m (Travel version) |
| Width: | 2 m |
| Height: | 1.55 m |
| Wheelbase: | 2.73 m (City version) / 2.93 m (Travel version) |
| Engine: | 1 electric traction engine |
| Batteries: | 40 kWh (City version) / 90 kWh (Travel version) |
| Power: | 100 kW (City version) / 160 kW (Travel version) |
| Charging: | Static and dynamic induction |
| Drive Wheels: | Front |
| Onboard Connectivity: | 5G |
| Infrastructure Connectivity: | 5 GHz Wi-Fi |