Just two of the 1973 Ford Falcon XA GT RPO 83 were known to be made in the unique MacRobertson's Old Gold colour and both of them now reside in South Australia.
The rare vehicles have unique stories and are a testament to the care, passion and pride for restoring cars to their authentic states.
Both cars have been restored by Capricorn Members: Hagen Zerk Automotive in Port Lincoln and Finch Restorations in Mount Barker, just outside Adelaide.
Rare performance vehicles
These cars are special for a few reasons. The series was amongst the last performance vehicles of their era that were raced at Bathurst and then sold to the man on the street the next day. Only 290 of the limited production RPO 83 were built: 120 hardtop coupes and 170 four-doors.
Public uproar over the prospect of cars capable of 270 km/h being driven down suburban streets ended the sale of that category.
The two restored cars are also a rare colour: a vibrant orange, MacRobertson's Old Gold, which was only used on three cars in this series.
The MacRobertson's Steam Confectionery Works was responsible for the creation of some of Australia's favourite sweets, including Freddo Frogs, Old Gold, Columbines and the Cherry Ripe.
Based on the MacRobertson's Old Gold chocolate box, the colour was originally developed by Ford for the confectioner's commercial fleet, but it was then introduced to the consumer cars in a limited run.
Remarkably, two of the cars from this colour and series have turned up in South Australia to be restored.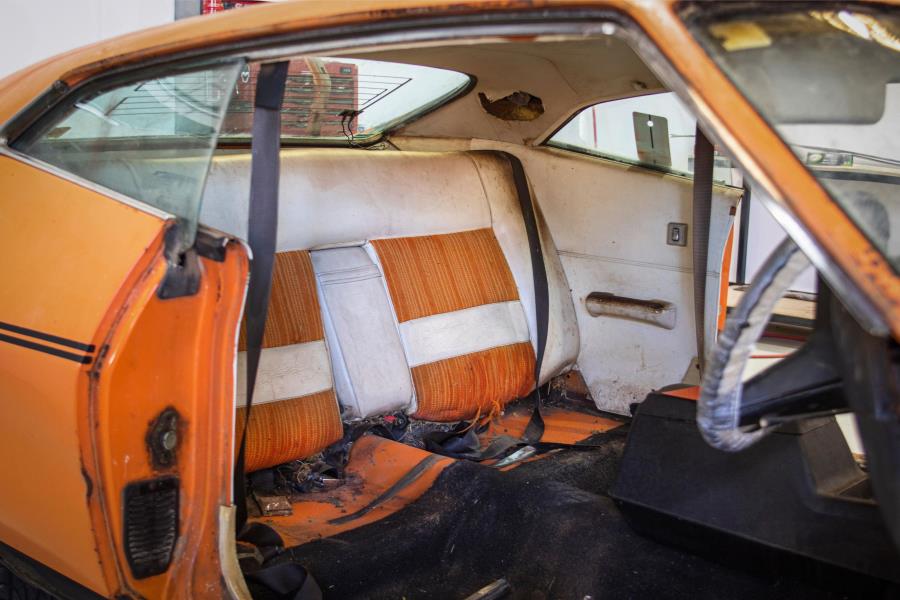 A lifetime of fixing and restoring
One was bought by Hagen Zerk, a mechanic and lifelong tinkerer on cars. Ever since childhood (first in his father's garage and on his cousin's farm) he has been fixing and restoring.
His lifelong passion led him to his two-door RPO 83, which he bought in Queensland.
Having tracked down the owner, he made contact but didn't make an offer for a few years. The prior owner had many offers, but he didn't sell until Hagen Zerk showed up for the second time with a cheque.
He heard the car was the special orange colour, but when he turned up to look at it, he saw it had been resprayed blue. Closer inspection around the body revealed that it indeed was one of the rare MacRobertson's Old Gold models.
"It was all blue, but when I looked under the floor carpet it was this amazing colour," Hagen Zerk said.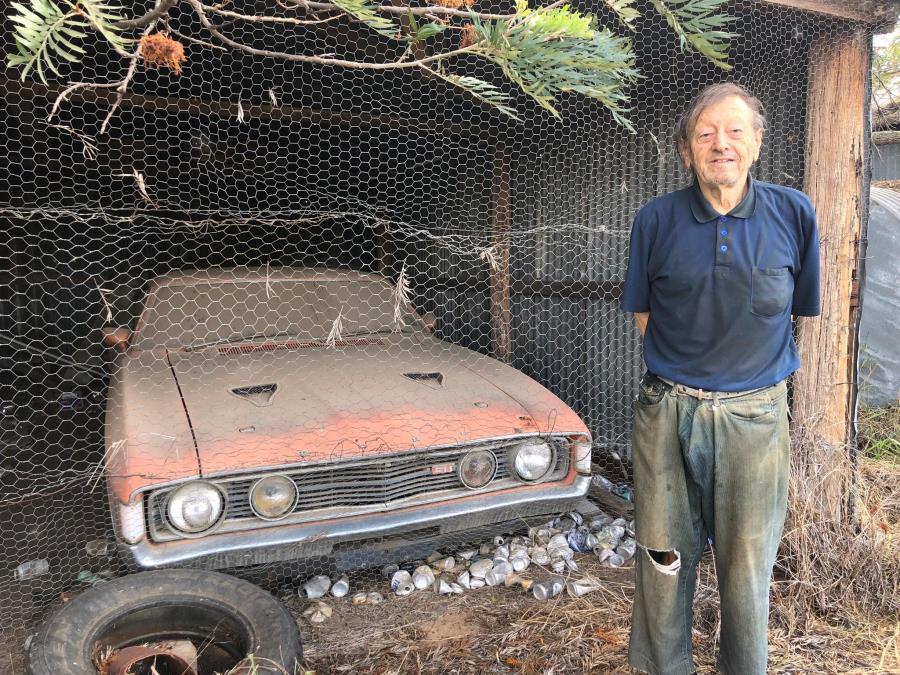 He restored his first car, a Cortina he still owns today, at age 12. He is now 49 and still has the same passion.
"We used to go to the cousin's farm and wreck 'em and then bring them back and patch them up. While other kids were out playing football, I was at home in the garage tinkering with cars. It has always been an interest."
The social aspect of restoring cars has also been a mainstay during Hagen Zerk's life, having driven cars all across the country, from trips across the Nullabor, to Perth, to Bathurst.
The cars both came from the same area in Queensland. Hagen Zerk and the original owner of the other vehicle, Gordon Stubbersfield, developed a relationship around their ownership of the cars.
"I went up there and spent a few hours with Gordon because he had the same car with the same colour. I kept in touch with him over the years until he passed away."
Restoring the "Chicken Coupe" to its former glory
The other '73 XA has recently received media attention because of its fascinating backstory. The nicknamed "Chicken Coupe" is currently being worked on by Finch Restorations.
The car was bought by its original owner, Gordon Stubbersfield, for his wedding and was driven for a few years until the cost of insurance became prohibitive.
Despite multiple offers to part with it, he parked it in storage and encircled it with chicken wire. This protective cage was where it got its new name.
Sitting there for decades undriven saw its condition deteriorate significantly and allowed rats to make a nest inside its back seat.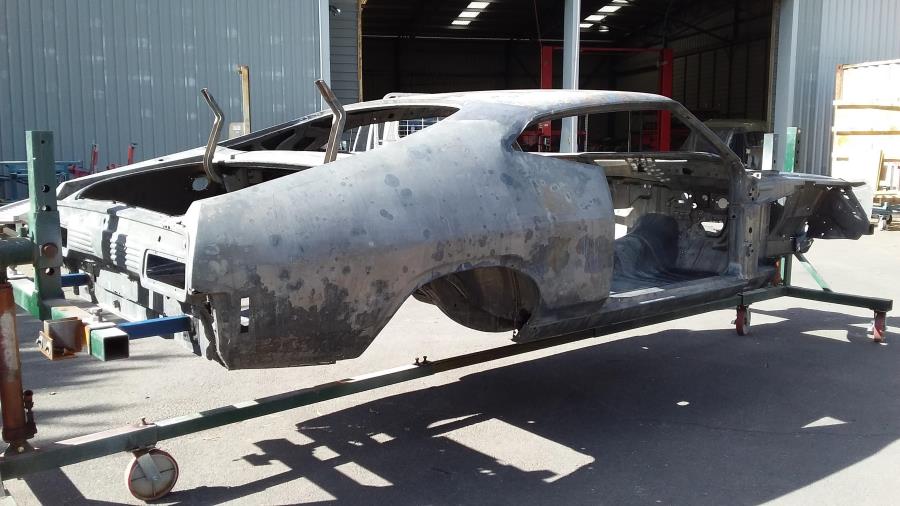 "It was surprising to see the damage caused by the rat infestation. From decades of faeces and urine from the rats, there was lots of uric acid damage and it caused a lot of unusual rust damage," CEO of Finch Restorations Peter Roberts said.
Finch Restorations has been around since 1965 and under its new owners, Peter and co-owner and wife, Harbinda, it has been revitalised with new high-tech offerings and a growing staff.
A relative newcomer to the industry, Harbinda Roberts says her passion for restoring cars comes from her love of art.
"I love the aesthetics of the cars. I love art and history and these cars are sculptures that you can drive. We take cars that are in too bad a shape to even be picked up for a wreckers' yard, but we turn it into something that is too nice to drive," she said.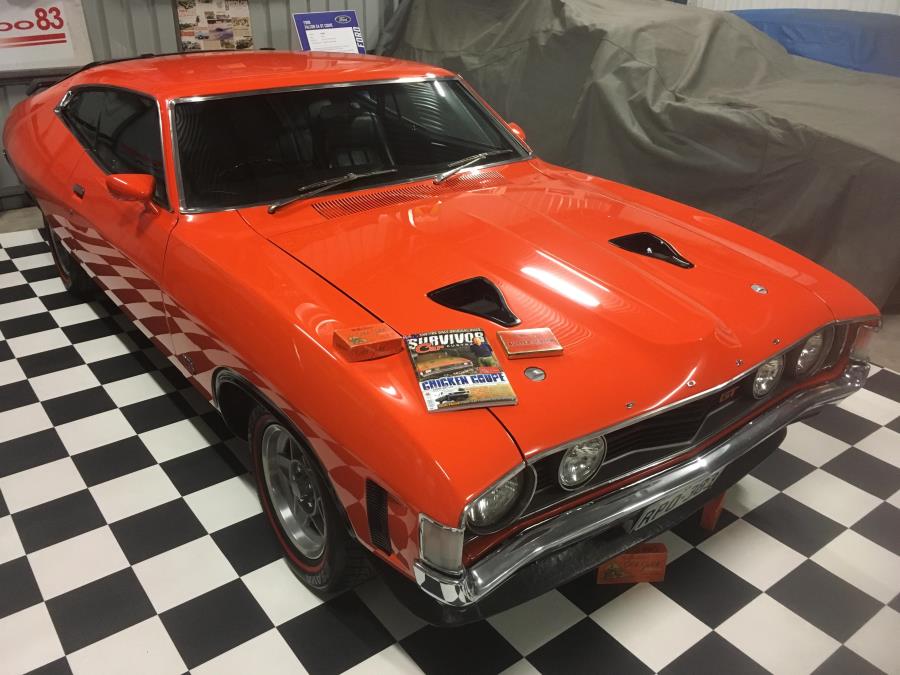 The "Chicken Coupe" was only put up for auction after the owner passed away. When it came to restoring such a special car, there was palpable
"There was an aura around the car. After it was sold and it was known it was an SA owner, there was a lot of excitement about who would get the work and our guys were really chuffed." Harbinda Roberts said.
The car's new owner is the right one, according to Harbinda Roberts.
"The owner is a car collector, but wants to own and drive it and maintain the legacy, to restore it to an authentic level. He is the right owner for the car because he doesn't want to customise it or change it."
The relationship between the restorers of the cars is ongoing. Once the "Chicken Coupe" is complete, they plan to get together for a photo of the two cars side by side.