It's a thing of beauty and it's the first vehicle to come with a new three-litre twin-turbocharged V6 Nettuno engine.
Nettuno was conceived, developed, designed and built entirely by Maserati, and uses a pre-chamber combustion technology derived from Formula 1 powertrains.
It has a top speed of over 326 km/h and accelerates from 0 to 100 km/h in 2.88 seconds – which would be quite a memorable trip to Woolies. Weighing less than 1500 kg, with rear-wheel drive and an 8-speed automatic transmission, peak torque is 730 Nm at 3000 to 5500 rpm.
Maserati hasn't just been working on the mechanics for this new generation of vehicle. The entire chassis of the MC20 is carbon fibre and composites (hence the light weight) which has also given them real freedom with shapes they've been able to create in the body (most notably, the butterfly doors).
So, it's lightning fast, feather light and "built to stun", as Maserati points out. But the MC20 isn't just a toy for the track. This is an everyday supercar, designed for "excellent driveability, comfort and safety" on the road, with "an interior where efficiency combines with luxury".
It has an elegant but still sporty design. It's also surprisingly minimalist inside. The interior is black and has dark upholstery, with just two 10-inch screens and no superfluous ornamentation.
"It only carries the driving mode selector, two buttons for the gears, the power window controls and the infotainment volume control, and a smartphone pad with wireless charger," Maserati said. "All the other controls are on the steering wheel, with the ignition button on the left and the launch control on the right."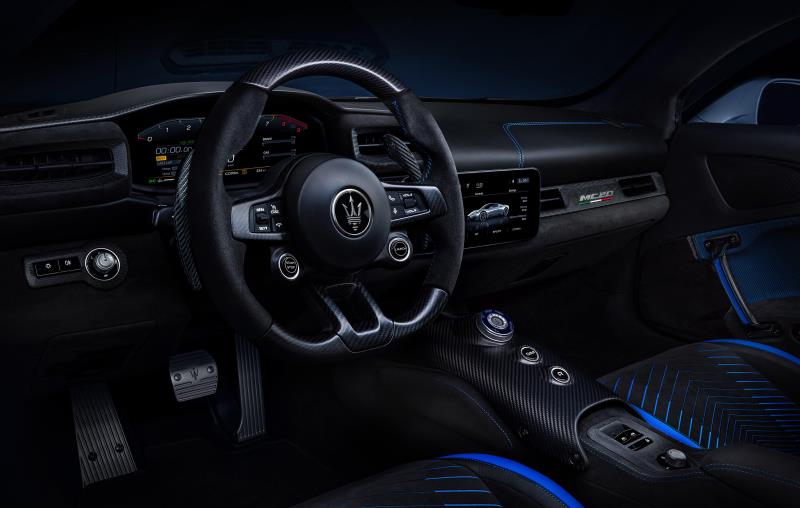 Wait, driving mode selector? Yes, the MC20 has five driving modes to choose from: Default GT for ease of use and comfort for everyday driving; Wet, for maximum control on damp surfaces; Sport, for high-traction conditions, such as a racetrack; Corsa, the "fun" setting, with less active traction and stability controls; and off mode, which speaks for itself.
It's worth noting Maserati is releasing a combustion engine vehicle at a time when most manufacturers are focused on electric. Well, an electric model is on the way next year. Maserati says it will have a range of about 386 km and a top speed of more than 305 km/h. It has been designed so an electric drive train can slot right into the existing chassis and body without any alteration. That's thinking ahead.
This is the kind of car that dreams are made of. But at a time when combustion engines are on the way out and we're on a steep trajectory towards electric, it is also a car that has been designed with the future in mind.
Speaking of future planning… we're off to buy a lottery ticket.