The year is 1970. John Newcombe beats Ken Rosewall in an all-Australian men's final to win Wimbledon. Johnny Farnham tops the charts for seven weeks with "Raindrops Keep Falling on My Head". Aussies flock to the cinema to see Mick Jagger playing the bushranger Ned Kelly. At Bathurst, the second-generation Datsun Sunny, the Datsun 1200, roars to victory in Class A at the Hardie-Ferodo 500.
Half a century later, most of those iconic performances are now long forgotten. But Mick Jagger is still going, and so are a handful of Datsun 1200s—including one that has been lovingly restored, and is still raced, by Capricorn Member and Preferred Supplier Anthony Norris of Grand Auto Wreckers in Lonsdale, Adelaide, South Australia. It's a wrecking yard specialising in Nissan parts—and, of course, in parts for the Datsun makes that preceded them before the name change of the 1980s.
"I've always had a big passion for Datsuns, I've got several of them," Anthony said. "I started off doing sprints in a Datsun 1600 (in the late 1990s) and I thought, before I bingle this car, I better buy something I can get aftermarket parts for—fronts, guards, bonnets, stuff like that.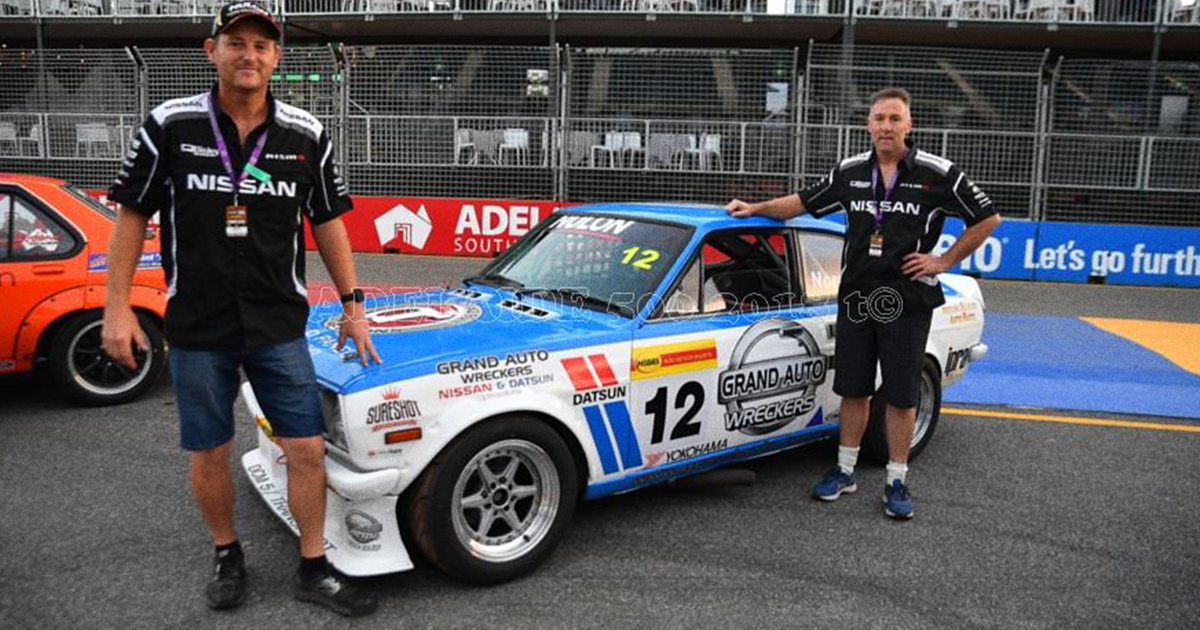 "That's how I bought the little Datsun 1200. I found it in Queensland about 10 years ago. It had been used as a hill climb car. My father went up from Sydney to pick it up for me, then we went through getting it all stripped down and acid dipped. Then we built it up from scratch. I gave it to MSR Motorsport and he built a proper race car, with nice power-to-weight, and I just go out and enjoy it and have fun."
The original Datsun 1200 had an economical 1.2-litre A12-series engine and MacPherson strut front suspension with optional disc brakes. They were once a familiar site on the roads of Australia and New Zealand and were a competitor vehicle to the Toyota Corolla. The first-generation Sunny debuted in 1967 but with its 1000 cc engine, was pipped in terms of power by the Corolla's 1100 engine. The new 1970 Sunny was set to turn the tables on Toyota—except Toyota released 1400 and 1600 cc Corollas the same year! This spirit of competition was never more obvious than on the racetrack. Shannon's Club writer Mark Oastler described the Sunny's 1970 Bathurst appearance as a "sparkling" debut "back in the days when the race was held for massproduced cars in (supposedly) stock standard showroom trim".
"After 500 miles (800 km) of hard racing, the worksentered Datsun 1200 driven by Barry Tapsell and John Leighton emerged as the Class A winner in its first attempt."
Competition remained fierce in the ensuing years, with the Sunny winning but subsequently being disqualified in 1971 and winning after Mazda was disqualified in 1972. 1973 was the year Bathurst switched from 500 miles to 1000 kilometres. Classes changed and the Datsun Sunny fell afoul of the four-year model limit rule, so the Nissan factory in Japan shipped out a Datsun 1200 two-door coupe, to race at the Sandown 250 and Bathurst 1000.
Writing for Shannon's, Mark described the final minutes of a fiercely competitive race: "When the chequered flag fell after 143 laps (20 laps behind the outright race winner), the works Datsun 1200 was still on the same lap and less than a minute ahead of the second-placed Fiat it had fought so hard with all day. And this was after more than seven hours of racing! Incredible."
It's the coupe model, the star of that 1973 Bathurst, that Anthony races in Improved Production (IPRA) races around South Australia today. It is running an SR20 turbo, out of a late model Nissan Silvia.
"On an Improved Production car, you're not allowed to play with the firewall, which is where your pedals are connected, and your rad support," Anthony said. "That's all got to be standard.
"And the front suspension's more or less got to be standard. But there are some changes from some modification, as in you can put bigger brakes on and front and rear. So, I've got Skyline brakes all round."
Anthony is a second-generation racing driver. His father, Jim Norris, is still doing hill climbs in his 80s. It was Jim who convinced Anthony to race.
"I've been around to most tracks in Australia and I've done the Nissan Datsun Nationals," Anthony said. "Being a sponsor of all the nationals, I try and take one car and just enjoy myself once again and sometimes win it outright. It puts a smile on my dial because it's always good to go to an event and win it as well as sponsor it."
As someone who loves racing, hasn't Anthony been tempted to race something with a bit more power?
"I did my trade at Adelaide Engine Service as an engine reconditioner, and everyone was into their V8s, like the Chevy V8s, the Ford V8s," Anthony said. "I was always a four-cylinder man, and I knew that Nissans were pretty switched on with their technology. So, I focused on the little four-cylinders. I used to drag race back in the day in my 1600 and show all the V8 boys, 'Look, see, a little Datsun four-cylinder can beat a V8'. Wind the boost up, and I had a 1600 doing elevens at one stage!"
The Datsun name might have disappeared from our roads, and the Sunny's glory days at Bathurst might be long behind them, but it's great to see this once popular small car still has a fanbase, and is still putting in winning performances on the track.