For some people, the decision comes down to desire. They want the latest BMW or they want a Tesla. For others, it's habit. They're a Ford guy and they'll always be a Ford guy. For some, it's practicality. They need a ute because they're regularly carrying loads, or they need a four-wheel drive because they go off-roading on the weekends, or they're buying a second-hand car because their budget is constrained. Others (as difficult as this might be for a rev head to imagine) walk into a dealership with little more consideration than a preference for the colour red.
Buying a new car has never been a terribly scientific transaction. But that is about to change. An innovative interactive platform which will personalise the way we approach finding the ideal vehicle to match our needs, wants and lifestyle is in development.
Called Carsona, it's in development in Perth, Western Australia, with the support of Capricorn. It's the brainchild of Desiree Louis, a marketing graduate, and Ali Al-Asadi, a technology student at Curtin University, who together with a friend came up with the idea for the Techstars Startup Weekend — an intense, 54-hour, Silicon Valleystyle tech business idea generation competition. The Techstars event was hosted by Spacecubed, a Perthbased innovation hub, and sponsored by Capricorn, which then picked the best idea from the weekend for further investment and development through an accelerator program. Carsona was chosen.
"The combination of someone's persona and lifestyle choices are accurately matched to a vehicle, or to amenities that a vehicle possesses," Ali said. "That is Carsona."
It's an idea that seems so obvious it's surprising no-one has thought of it before. But with the automotive landscape currently undergoing so much disruption — with everything from the switch to electric, to car sharing models, to autonomous vehicles — perhaps it is an idea which has found the right time?
"The automotive landscape is evolving and with all these feature sets and different forms of transportation, the average consumer is confused as to what is the most optimal means of transportation for their needs," Ali said. "Carsona is an interactive platform where consumers see a range of visually stimulating questions and, based on how they interact with the system, we can give them a detailed report on why a car is suitable for them."
Ali said the platform is "gamified", so users aren't merely asked a range of questions but asked to interact with the platform in various ways. The recommendations are based not just on what the user says about themselves, but what those interactions tell the platform about the user.
"From our surveys we know more than 60 per cent of people don't have much knowledge about cars and about 70 per cent are extremely or somewhat reliant on the dealer to find them the right car," Ali said. "We're taking away the ambiguity when it comes to finding their ideal car."
Desiree said Carsona's recommendations would not be based on backend deals with dealerships, nor on demographicbased assumptions, but on genuine, personalised advice.
"What differentiates us is that we use a mix of demographics and psychographic data," she said. "Psychographics are interests and behaviours and what that data ultimately does is it finds what people want and gives them what they need. It adds a psychological component to it. We use those interests and behaviours to create a lifestyle profile and, through that, match people with the feature sets and amenities of a vehicle that best suits them."
Desiree said at the end of the process the consumer gets a simple and "very transparent" report showing why they were matched with a vehicle.
"We don't expect people to buy cars from our platform; we're not selling cars," she said. "We are creating a foundation for them to be more informed. What we expect is that a level of trust in our platform will come from that transparency, from enabling people to make an informed decision and not to go to a dealership and get sold on features they don't necessarily need or want."
All this sounds great for the consumer, but what is the benefit to the automotive industry?
Desiree said integrations and collaborations with industry, including manufacturers, dealerships and car sharing companies, will be important to the platform's operation and success. Ultimately, Carsona is effectively a lead generation platform.
"Once consumers are matched to a car, we can send them towards where they can acquire the car or lease the car, or rent it," Ali said. "We can be a bridge between the consumer and the manufacturers, dealerships, and other automotive industry businesses. We're helping people find cars, then sending them off in the right direction to acquire the car."
Capricorn's General Manager of Innovation and Corporate Development, Kim Radalj, has been working closely with Ali and Desiree on the development of Carsona through the accelerator program.
"Consumers have a wide range of choice which can make it hard to feel confident in choosing the right vehicle," Kim said. "With new technology and drive trains an increasing feature of the market, we decided to put this challenge to the Perth startup community to see what ideas they had to help consumers make this important purchasing decision.The passion and energy the Carsona team bring is impressive, as is the speed with which they have turned concept into a new business model. We hope the Carsona team continues to build on their innovation, and look forward to seeing what they achieve in 2023 and beyond."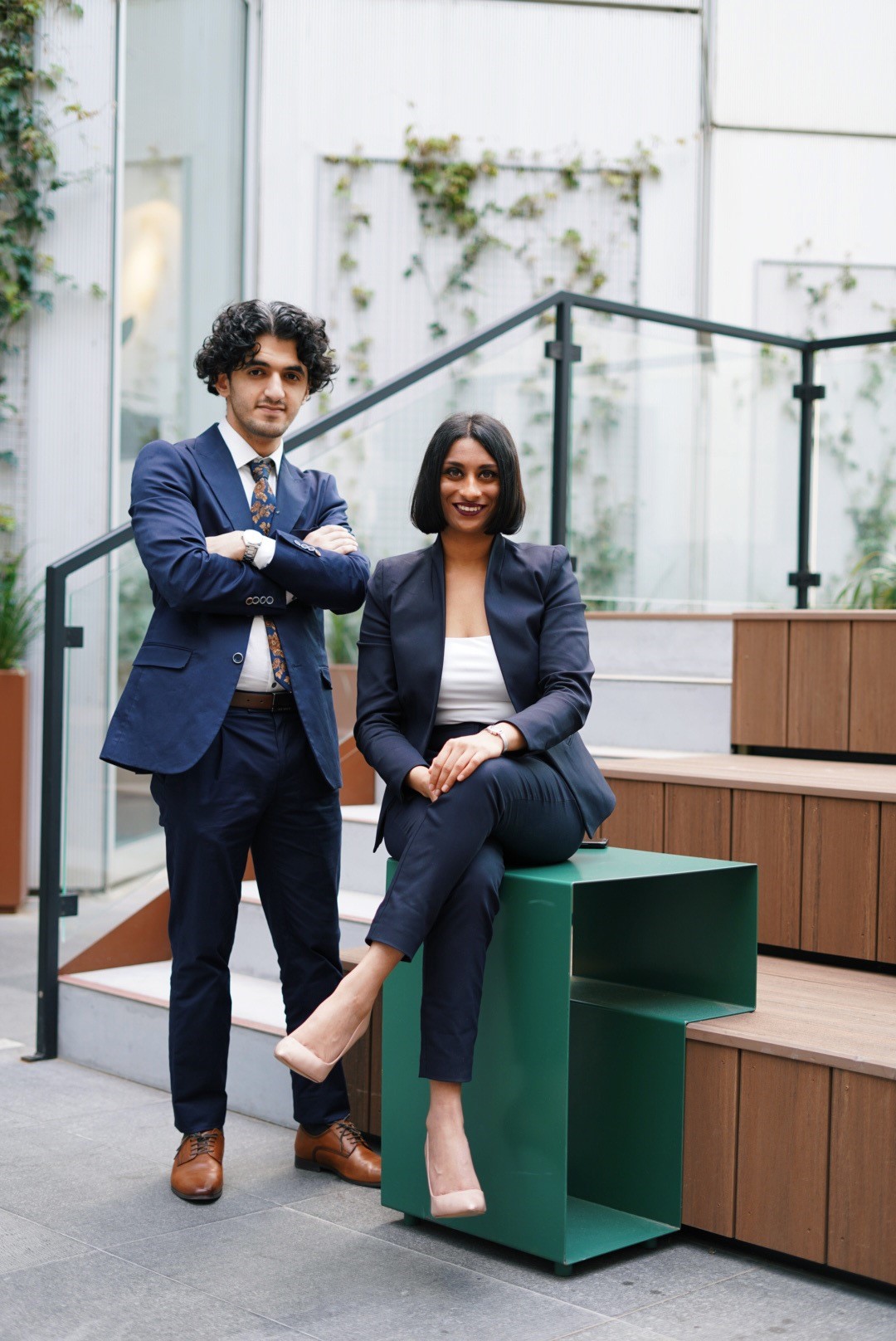 Desiree and Ali said they hoped Carsona would be live by mid-2023, following beta testing in the early part of the year.
"Buying a car is so personal, but the way we buy a car is so cold," Desiree said. "That's where Carsona can step in."
If it's time for a change in the way we buy cars, could Carsona be that change?
Feature photo: Carsona co-founders, Desiree Louis and Ali Al-Asadi, pitched at the Plus Eight Pitch Night at Flux powered by Spacecubed.